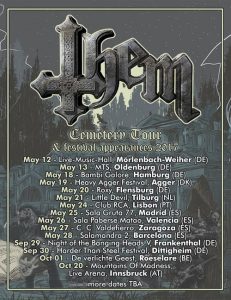 Mednarodna metal naveza THEM napoveduje svojo prvo turnejo. Skupina promovira svoj prvenec z naslovom Seet Hollow, ki je izšel septembra 2016  preko Empire Records.
Traklista  je naslednja:  Rebirth, Forever Burns, Down The Road To Misery, Ghost In The Graveyard, The Quiet Room, Dead Of Night, FestEvil, The Crimson Corpse, Blood From Blood, The Harrowing Path To Hollow, Salve ter When The Clock Struck Twelve.
Leta 2008 je vokalist Troy Norr (KK Fossor iz zasedbe  Coldsteel) zasedbo THEM ustanovil kot King Diamond tribute band, danes pa zasedbo sestavljajo Mike LePond (Symphony X) na basu, Kevin Talley (Suffocation) na bobnih , Markus Ulrich (Lanfear, Septagon), Markus Johansson (Sylencer) na kitari, Richie Seibel (Lanfear) in na klaviaturah Richie Seibel  (Lanfear).
May 12 – DE – Live Music Hall, Mörlenbach-Weiher
May 13 – DE – MTS, Oldenburg
May 18 – DE – Bambi Galore, Hamburg
May 19 – DK – Heavy Agger Festival, Agger
May 20 – DE – Roxy, Flensburg
May 21 – NL – Little Devil, Tilburg
May 24 – PT – Club RCA, Lisbon
May 25 – ES – Sala Gruta 77, Madrid
May 26 – ES – Sala Paberse Matao, Valencia
May 27 – ES – C. C. Valdefierro, Zaragoza
May 28 – ES – Salamandra 2, Barcelona
Sep 29 – DE – Night of the Banging Heads V, Frankenthal
Sep 30 – DE – Harder Than Steel Festival, Dittigheim
Oct 01 – BE – De verlichte Geest, Roeselare
Oct 20 – AT – Mountains Of Madness, Innsbruck