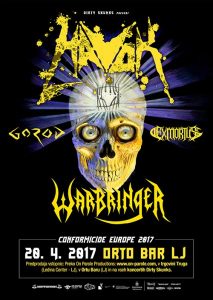 Rock Hard predstavlja evropsko turnejo ameriške thrash metal zasedbe Havok  (na tej povezavi) skupaj z Warbringer, Gorod in Exmortus.
20. aprila se bo karavana ustavila tudi v Sloveniji.
Album Conformicide, ki bo izšel naslednji teden,vsebuje naslednje skladbe: 1. F.P.C.,  2. Hang 'Em High,  3. Dogmaniacal,  4. Intention to Deceive,  5. Ingsoc, 6. Masterplan, 7. Peace Is In Pieces,  8. Claiming Certainty, 9. Wake Up in 10. Circling the Drain.  Bonus Tracks (Special Edition CD): 11. String Break in  12. Slaughtered.
HAVOK – European Headlining Tour with Warbringer, Gorod & Exmortus
Presented by Rock Hard Magazine (Germany)
01.04.2017 Edinburgh (UK) – Heavy Scotland Festival [HAVOK only!]
02.04.2017 Manchester (UK) – Rebellion
03.04.2017 Birmingham (UK) – Mama Roux's
04.04.2017 London (UK) – Underworld
05.04.2017 Hasselt (Belgium) – Muziekodroom
06.04.2017 Tilburg (The Netherlands) – 013
07.04.2017 Hamburg (Germany) – Logo
08.04.2017 Aarhus (Denmark) – Royal Metal Festival
09.04.2017 Gothenburg (Sweden) – Sticky Fingers
11.04.2017 Helsinki (Finland) – Tavastia
13.04.2017 Stockholm (Sweden) – Fryshuset Klubben
14.04.2017 Copenhagen (Denmark) – Pumpehuset
15.04.2017 Berlin (Germany) – Cassiopeia  
16.04.2017 Markneukirchen (Germany) – Framus & Warwick Concert Hall
17.04.2017 München (Germany) – Feierwerk
19.04.2017 Vienna (Austria) – Arena
20.04.2017 Ljubljana (Slovenia) – Orto Bar
21.04.2017 Brescia (Italy) – Circolo Colony
22.04.2017 Pratteln (Switzerland) – Z7
23.04.2017 Saarbrücken (Germany) – Garage
24.04.2017 Nantes (France) – Ferrailleur
25.04.2017 Bordeaux (France) – La Chapelle
26.04.2017 Madrid (Spain) – Caracol
27.04.2017 Barcelona  (Spain) – Salamandra 1
28.04.2017 Puget (France) – Le Rats
29.04.2017 Paris (France) – Petit Bain
30.04.2017 Essen (Germany) – Turock
More news about HAVOK soon…