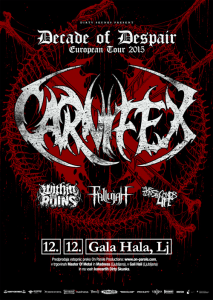 SOBOTA, 12.12.2015
Carnifex (USA), Within The Ruins (USA), Fallujah (USA), The Last Ten Seconds Of Life (USA)
Lokacija: Gala Hala, Metelkova, Masarykova 22, Ljubljana
Začetek: 20h
Cena vstopnice v predprodaji: 22 €
Cena vstopnice na dan koncerta: 25 €
Predbožična nočna mora s Carnifex
Zgolj nekaj mesecev po obisku na festivalu Metaldays se v Slovneijo ameriški death core rušilci Carnifex.
Carnifex so stari znanci slovenskih odrov, a znanci, ki jih publika vedno vabi nazaj. Gre namreč za enega najbolj znanih ameriških death core kvintetov, ki skupaj s Suicide Silence, White Chapel ipd. tvorijo vrh dotične scene. Kritični do vseh stvari, ki obkrožajo ta planet, hkrati pa oboroženi z mastnimi in uničevalnimi riffi, atomsko eksplozivnim bobnom in seveda demonskimi vokali so Carnifex smrtonosni že na nosilcih zvoka, kaj šele v živo. Tega benda preprosto ne smete spregledati, kadar pride v bližnji klub.
In ta klub bo Gala Hala na Metelkovi v Ljubljani, ki bo moral dodatno ojačati stenske nosilce 12. 12. 2015, saj bodo Carnifex s seboj pripeljali še nekaj sinov Pekla, in sicer bodo to Within The Ruins, Fallujah ter The Last Ten Seconds Of Life.
CARNIFEX
Bio: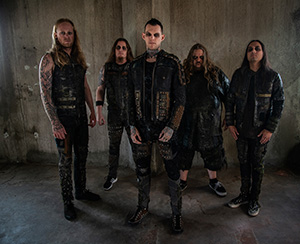 For more than 25 years, Death Metal has been the most maniacal and vicious form of rock. Covering the obscene and praising the perverse, extreme Death Metal still reigns as the driving force that continues to devour all other forms of hard rock. As each year passes in this brutal movement, it becomes increasingly difficult to find suitable leaders to carry the torch and continue to entice and surprise an audience that certainly isn't shocked or impressed by much. That search has ended. Allow us to introduce CARNIFEX.
Derived from the Old English word for "executioner," their moniker could not be more appropriate. It's a word that reeks of death and destruction from the Dark Ages to describe a fiercely morbid death metal band. It's hard to imagine that San Diego – known for its white sand beaches, endless sunny days and astronomical real estate- is also home to the brutal beat down that is CARNIFEX.
In 2005, vocalist Scott Lewis had a chance meeting with like-minded, gifted drummer Shawn Cameron. Having both played in a countless number of bands over the years that just didn't "seem to fit," the connection between the two was felt instantly. Together, they began a search to fill the musical void that had existed in each of their lives. They quickly formed a group and hit the road. CARNIFEX, being the serious-minded musicians that they are, hit the road hard. Refusing to be another "here today, gone tomorrow" trend, CARNIFEX let nothing stop them from perfecting their live show, touring relentlessly, and writing brainsick, yet intelligent, songs. Having endured everything from tour cancellations, van breakdowns and inevitable line-up changes, that "magical fit" was solidified by the end of 2007. Scott and Shawn were complemented by the intensity of guitarists Cory Arford and Ryan Gudmunds. Bassist Fred Calderon rounded out the furious fivesome.
The non-stop touring and methodical songwriting eventually resulted in CARNIFEX selling over 5,000 copies of their first full-length album, Dead in My Arms, with little publicity. Not surprisingly, industry types started to notice; however, none as quickly as Victory Records. The men of CARNIFEX were welcomed to the Victory family almost immediately after they showcased their brilliance to the staff in November 2007. Having spent a lot of time writing during the previous year, CARNIFEX was primed to get into the studio to begin the masterpiece that is The Diseased and the Poisoned. Zeuss (Unearth, Shadows Fall, Hatebreed) at Planet Z Studios was a natural choice for producer, and they entered the studio rapidly and intently.
CARNIFEXis something musically unique. What really makes CARNIFEX stand out from the throngs of other hard rock acts currently scouring the planet are their savage live performances. Their declaration to make every night an "experience" for fans rather than just a "show" has proven to be the most appreciated trait of the band among fans. But you can keep your pyrotechnics and other special effects at home…CARNIFEX relies solely on the power of their music. "Every night, we strive to play extremely tight. Sometimes it can be difficult to make such an intense show so interactive, but we make sure that everyone is getting involved," says Lewis.
In 2008, CARNIFEX proudly delivered their first Victory album to the metal masses. Intriguing and armed to the teeth with an arsenal of blast beats, machine gun riffs and vocals exorcised from the deepest pits of hell, The Diseased and the Poisoned is the soundtrack to your worst nightmare. Having sold 25,000 copies in the U.S. alone, this record was a huge success, solidifying their spot in the American Death Metal realm.
In 2010, CARNIFEX will debut the highly anticipated Hell Chose Me, taking a darker and more blasphemous approach to their already visceral sound. Musical growth and a higher level of aggression coupled with themes of despair and isolation make for an abrasive new record. Blood curdling screams, guttural growls, bottom heavy baselines, and razor-sharp guitar riffs make for dark and brutal work.
Fresh off the European Bonecrusher Fest with The Black Dahlia Murder and 3 Inches Of Blood, the band plans to tour extensively in 2010. In March and April 2010, CARNIFEX will participate in the Atticus Metal Tour with Unearth, Stick To Your Guns, Veil Of Maya, and The Ghost Inside then headline a U.S. tour.
WITHIN THE RUINS
Bio: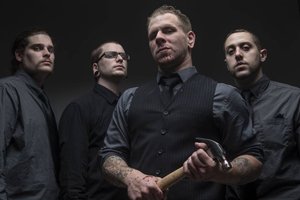 Who says a band needs to disappear for years at a time between albums? Pantera dropped a classic album every other year from 1990 to 1996. The late Chuck Schuldiner unleashed seven classic Death albums in the span of just over ten years. So when a band hits the kind of creative stride, chemistry and metallic momentum WITHIN THE RUINS tapped into with last year's breakthrough album they'd be fools to slow down now.
Within The Ruins wasted no time in crafting a new career-defining landmark, Phenomena. The band's new album is the next step forward from Elite, further jettisoning all but the best components of the oft-maligned "deathcore" genre to reveal a band whose all out assault of heaviness won't be confined by genre. The band shreds with the best of them of course, maintaining a place next to Between The Buried And Me and The Faceless, but the new album is even more about songs than scales.
Phenomena maintains an emphasis on showmanship with ever increasing diversity, smartly sidestepping predictable structures and contrived breakdowns. Within The Ruins are exploring the type of sonic textures and esoteric territory explored by Gojira. In some spots, a more nuanced vocal assault creeps in, with powerful might.
Album kickoff "Gods Amongst Men" boasts a clearly defined chorus, the first of its kind to truly emerge. Fans of the slower, sludgy groove of "Feeding Frenzy" are sure to dig "The Other." The dissonant guitars and evocative synthesizers of "Calling Card" would seem out of place in their earlier work, but on Phenomena, it's just part of the rich tapestry.
"When we released our last album, we felt like we had finally found what we were wanting to do since we started the band," explains cofounder Joe Cocchi, who proved his guitar shredding prowess, alongside his fellow cofounder appropriately nicknamed "Drummer," with early rumblings like Omen. All Music likened the eclectic shred of Creatures to Metallica's landmark Master of Puppets, but played "twice as fast."
Vocalist Tim Goergen sounds as savage as ever, with a renewed focus on memorability and catchiness to his phrasing. Bassist Andrew Tate is as fluid and tasteful as before, keeping pace with this bandmates while offering his own twists and turns along the way.
"We've been known for technical, faster metal. But it's the type of stuff that's tough for someone to listen to if they're not into a very, very specific subgenre," says Cocchi. "The challenge we gave ourselves with Phenomena was to come up with something even better in a shorter amount of time, to really take advantage of the momentum."
Elite established Massachusetts' finest as frontrunners in the world of extreme metal, putting the hardworking group on the Billboard 200 and doubling the first week sales of their previous record, Invade (2010). Within The Ruins were once voted onto Summer Slaughter. Now they return, three years later, victorious, joining a 2014 lineup topped by death metal legends Morbid Angel. This is all hot on the heels of a tour with Whitechapel and a triumphant New England Metal and Hardcore Festival homecoming.
Born and bred in the same heavy metal rich Northeast soil as New Wave Of American Heavy Metal progenitors Killswitch Engage, All That Remains, Unearth and Shadows Fall and weaned on the dark sounds of classic death metal, the technical melodicism of Scandinavia and the precision staccato crunch of Meshuggah, Within The Ruins have busted their collective ass to carve out a unique identity for themselves from those ingredients and have succeeded like never before with this year's Phenomena.
"There continue to be tons of new fans for us to make," declares Cocchi. "There's a ton of people who haven't heard of us. One common thing to overcome in this genre is that people move on too quickly. We are still trying to progress and trying to bring something new to the table with every album. I believe that can always be done, even if it doesn't always happen with every band. Hopefully people can see that with us."
The fans wholeheartedly embraced Elite. Considering how much Phenomena takes Within The Ruins' music to the next level, there's no limit to how far this band can go.

FALLUJAH
Bio: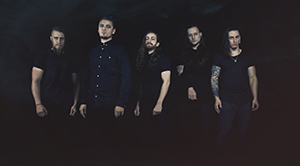 Formed in the San Francisco Bay Area in 2007, FALLUJAH has since displayed a rugged work ethic, investing countless months and weeks on the road in North America and internationally. The band's commitment to crafting forward thinking music has helped them build their own diehard fanbase from the ground-up through several releases, including 2009's Leper Colony EP, 2011's The Harvest Wombs debut LP, and their 2013 -Nomadic- EP. Now, with their newest work, The Flesh Prevails, FALLUJAH has ultimately paved the way for a new melodic and atmospheric perspective on death metal.
Explanation of the Name: Fallujah is a city in the Al Anbar province of Iraq that at the time of the bands formation sustained the highest concentration of destruction and casualties on both sides of the fighting. The members of Fallujah have lived the majority of their lives in the post 9/11 world growing up with the wars in Iraq and Afghanistan as well as observing the tension between East and West and religious turmoil. The city of Fallujah represents the pinnacle of tensions, hostility and destruction that has come to define the world we live in. To claim that the band has no knowledge of what went on there or is disrespectful is simply an uninformed opinion and irrelevant to the true message of the band.