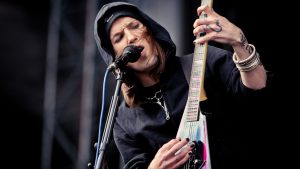 Na yt kanalu založbe Napalm Records so objavili skladbo Payback's A Bitch zasedbe Bodom After Midnight.
Letos se je za vedno poslovil bivši vokalist, kitarist in ustanovni član zasedbe Childern of Bodom Alexi Laiho (Warmen, Sinergy, Kylähullut in The Local Band) in s tem tudi njegova nova skupina Bodom After Midnight.
Za ep Paint The Sky With Blood  so posneli le naslednje tri komade: 01. Paint the Sky with Blood, 02. Payback's A Bitch, ter 03. Where Dead Angels Lie (Dissection-priredba).
Vse to je bilo objavljeno posthumno in sicer 23. aprila preko založbe Napalm Records.