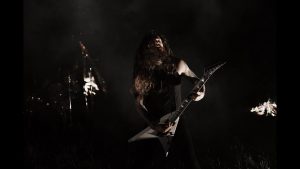 Wolves In The Throne Room so objavili skladbo Angrboda, drugi single  prihajajočega studijskega albuma z naslovom Thrice Woven, ki bo izšel 21. septembra pri založbi Artemisia Records.
Ameriška (Olympia, Wash)  black metal zasedba Wolves in the Throne Room bo 22. septembra pri lastni založbi Artemisia Records izdala novo studijsko ploščo z naslovom  Thrice Woven.  Avtor naslovnice je ruski okultni umetnik Denis Forkas, na albumu  Thrice Woven pa se bo skupina prvič predstavila s tremi kitaristi, saj se je bendu pred kratkim pridružil Peregrine Somerville (Sadhaka). Na albumu so sodelovali tudi vokalistka Anna Von Hausswolff, Steve Von Till iz zasedbe Neurosis  ter harpist Zeynep Oyku.
Traklista Thrice Woven: 01. Born From The Serpent's Eye 02. The Old Ones Are With Us 03. Angrboda 04. Mother Owl, Father Ocean 05. Fires Roar In The Palace Of The Moon Wolves in the Throne Room bodo novi album predstavili tudi v Ljubljani, in sicer 4.8.2017. Fotka skupine: Peter Beste.