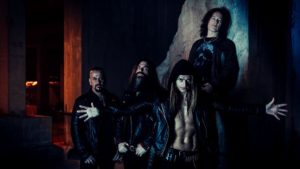 Wolf,  švedski heavy metal tradicionalisti, se 13. marca vračajo na prodajne police z novim studijskim albumom Feeding The Machine. Naslovnico za novi Wolf album je znova prispeval Thomas Holm. Album bo izšel pri založbi Century Media Records z naslednjimi skladbami.
1. Shoot to Kill
2. Guillotine
3. Dead Man's Hand
4. Midnight Hour
5. Mass Confusion
6. The Cold Emptiness
7. Feeding the Machine
8. Devil in the Flesh
9. Spoon Bender
10. The Raven
11. Black Widow
12. A Thief Inside
13. Atlantis (priredba) /bonus/
Prvi single izzide 17. januarja, zaznamoval pa bopričetek predprodaje albuma.  Wolf se marca odpravljajo na evropsko turnejo, na kateri bodo odpirali koncertne večere pred rojaki Grand Magus. Sloveniji najbliže se bosta skupini  ustavili 22. marca v münchenskem klubu Backstage.