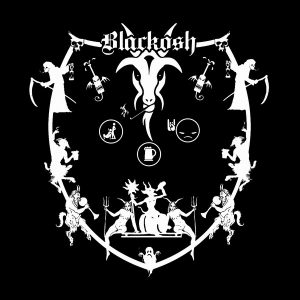 "Whores, Booze & Black Metal" debi album zasedbe BLACKOSH bo izšel pri  IRON BONEHEAD PRODUCTIONS.
Although an otherwise "new" band, the creator behind BLACKOSH is a dyed-in-the-wool veteran of the metal underground: Petr "Blackie" Hošek, a founding member of pioneering black metallers Root, and who was an integral songwriter for most of that band's existence. With BLACKOSH, Hošek here returns to the nom de plume he used during Root's most classic albums, Zjevení and Hell Symphony, and in essence nearly returns to those halcyon days of the early '90s, when the energy of newness was in the air and creativity was unchained and wide open for those who wanted to take the black torch further. Whores, Booze & Black Metal brims with that same electricity, a black METAL record that stomps 'n' surges with an addictive catchiness – and much like its title, there's no small amount of devilish fun to be had. However, BLACKOSH is more than simply a "retro" trip or retread of past glories. If anything, the manner in which these almost-anthems are rendered – cold, dead, even industrialized – bespeaks a desire to assault the listener with the most un-human of textures, drawing a line in the sand between party time and nuclear fallout. Whores, Booze & Black Metal: the gateway drug of BLACKOSH, but one that leads to DEATH.
BLACKOSH is a project – or, if you want, a bunch of maniacs and friends, sometimes at random hanging around the musician who goes by the nickname Blackosh, also a founding member of the legendary Root (alongside with Big Boss, in service between 1987-2004), since the second half of the '80s also active in the band Crux. And also in the '90s, Blackosh started the epic Cales, with a Bathory-like feel, as well as the pure black metal of Entrails. BLACKOSH, the project monicked with his own nickname, in fact accidentally became a regular band in 2013, while he and František Štorm and his company exchanged demos, and in the summer, they completed everything by a boozing party at the Jihosound studio, which gave birth to split 7″ with Master's Hammer. In the next year, they released yet another split 7″ with their comrades Master's Hammer. From the various recording sessions, from the period following the disbanding of both Crux and Entrails, recorded on broad or narrow tapes, as well as the newer riffing and recording with a notebook here or there, in various provisional studio conditions, a few songs came to existence, in the extreme black metal spirit, sung entirely in the native Czech language. Over time, they have become the impetus to put together a full-length album, which became Whores, Booze & Black Metal.