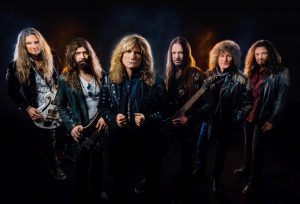 Whitesnake so na spletu objavili videospot – EPK (electronic press kit) albuma Flesh & Blood.
Album Flesh And Blood je izšel lani pri založbi Frontiers Music Srl., in sicer z naslednjimi skladbami:
01. Good To See You Again
02. Gonna Be Alright
03. Shut Up & Kiss Me
04. Hey You (You Make Me Rock)
05. Always & Forever
06. When I Think Of You (Color Me Blue)
07. Trouble Is Your Middle Name
08. Flesh & Blood
09. Well I Never
10. Heart Of Stone
11. Get Up
12. After All
13. Sands Of Time
Ob Davidu Coverdalu so se pri snemanju albuma Flesh & Blood  v studiu zbrali še  kitarista Reb Beach in Joel Hoekstra, basist Michael Devin, bobnar Tommy Aldridge ter klaviaturist Michele Luppi.
dodatni DVD:
14. Can't Do Right For Doing Wrong (nova skladba)
15. If I Can't Have You (nova skladba)
16. Gonna Be Alright (X-Tendo Mix) (DVD avdio)
17. Sands Of Time (Radio Mix) (DVD avdio)
18. Shut Up And Kiss Me (Video Mix) (DVD avdio)