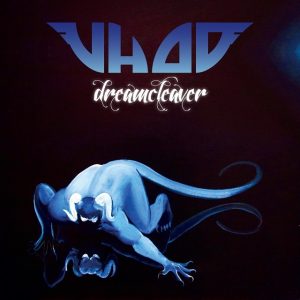 "Zasedba"  Vhod (Experimental Death Metal) iz Kanade bo prav tako kot Revolting Masses dne  13. novembra preko Inverse Records izdala Album " Dreamcleaver".
Track list:
1. Still The Blood
2. The Spectre's Behest
3. On The Tree Of Woe
4. So Pass Away/Locus Mortis
5. Dragon Sand
6. Reap The Harvest
7. Now Underground
8. Flesh For Our Swords
9. Obsequies
10. Dreamcleaver
*************
VHOD was conceived in January 2014 and is a merger of Godcursed  (2004-2014), Morbid Darkness (1989-2014) and Worms Of The Birth  (2011-2014), which were all active projects of sole member Chris Shaver at the time.  Early VHOD releases exhibited sporadic styles and  were mostly instrumental pieces used as a basis for finding a more  focussed signature sound.  Said releases consist of 3 singles, 'The  Scornful Winter', 'One Fallen' & 'Cimmeria' and an EP, 'Dreams Of  11.14', respectively, all released independently.  In December of  2014, work began on the 'Tor' Series, which consists of 4 parts:  'Behind The Shroud Of Mist', 'Wrap Three Times', 'Portal' and 'The  Desolates', respectively.  In these independent releases an evident  foundation was made with which future VHOD recordings will branch out  from.  Dreamcleaver is set for release November 13th 2015 on Finnish  label INVERSE RECORDS.
Line-Up:
Chris Shaver (All Instruments, Vocals, Compositions)