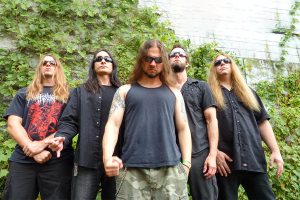 Monstrosity predstavljajo skladbo Cosmic Pandemia. Ta bo del prihajajočega studijskega albuma z naslovom The Passage Of Existence, ki bo izšel 7. septembra pri založbi Metal Blade Records.
12 novih skladb so posneli v studiu Redneck, ki je v lasti zasedbe Obituary. Produkcijo novega studijskega izdelka  so zaupali preverjenemu Jasonu Suecofu (Megadeth, All That Remains, Deicide, Atheist, Trivium), medtem ko je za miks poskrbel Mark Lewis (The Black Dahlia Murder, Cannibal Corpse, Deicide, Six Feet Under).
Monstrosity 2018 sestavljajo Lee Harrison (Terrorizer, ex-Atheist, ex-Malevolent Creation) na bobnih, Mike Poggione (Vile, ex-Skinned, ex-The Autumn Offering) na basu, Mark English (Deicide) na kitari, Mike Hrubovcak (Vile, Nader Sadek, ex-Rumpelstiltskin Grinder) na vokalu in Matt Barnes (Chaos Inception, Quinta Essentia, ex-Temple Of Blood) na drugi kitari.
Traklista albuma je naslednja:
Cosmic Pandemia
Kingdom Of Fire
Radiated
Solar Vacuum
The Proselygeist
Maelstrom
Eyes Upon The Abyss
Dark Matter Invocation (limited digi-CD bonus)
The Hive
Eternal Void (limited digi-CD bonus)
Century
Slaves To The Evermore