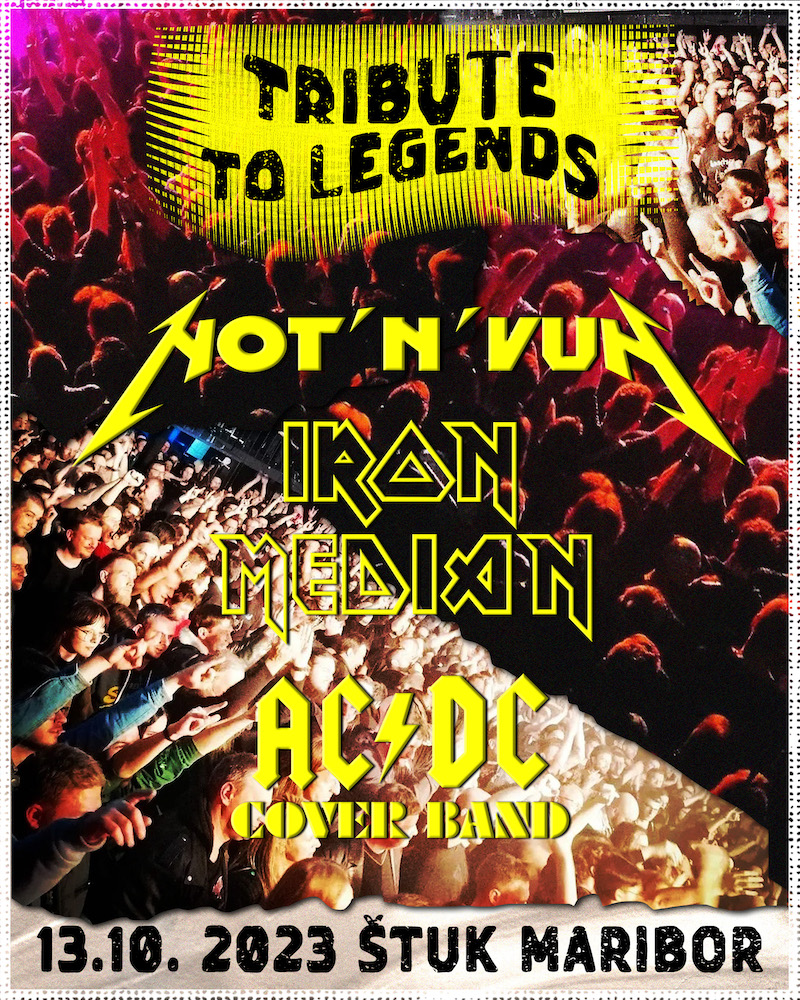 Obvestilo ogranizatorja:
13. oktobra se v Mariborskem Štuku poklonimo legendam! Trije vidnješi slovenski tribute bandi bodo združili moči in se poklonili svojim vzornikom, legendam Iron Maiden, Metallica in AC/DC.
IRON MEDIAN (Ljubljana)
velja za enega najboljših Iron Maiden tribute bandov daleč naokoli. Prekaljeni mački iz skupin Big Foot Mama, SkyEye, Metalsteel itd. že 15 let navdušujejo z vrhunskim približkom originalnemu zvoku in nastopu britanskih starost heavymetala. Slovijo po repertoarju za sladokusce (Fear Of The Dark, Run To The Hills, Number of The Beast …), družbo na odru pa jim dela tudi maskota Sandi, »bratranec« originalnega Eddieja.

NOT`N`VUN (Maribor)
se vračajo, seveda spet s »slovenskim Larsom« – filantropom Markom Soršakom – Sokijem na bobnih, in pevcem Timom Koresom – Korijem, ki je vmes sicer jadral po bolj komercialnih vodah, a trashmetalska žilica mu spet ne da miru. Fani Metallice se jih še vedno spomnijo po energičnih izvedbah klasik Master of Puppets, One, Enter Sandman, Sad But True …
AC/DC COVER BAND (Postojna)
prihajajo z »down under« primorskega konca. Že več kot 15 let preigravajo najbolj znane uspešnice legendarnih Avstralcev – tako iz ust Bona Scotta kot Briana Johnsona (Thunderstruck, Highway To Hell, Back In Black …) in so nepogrešljivi gostje na feštah, ko je treba narediti dobro hardrock žurko.
Se vidimo v petek 13. oktobra v Mariboru!