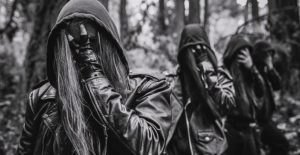 Iz tabora ameriških black metalcev Uada  tokrat predstavljajo ovitek in traklisto prihajajočega tretjega albuma z naslovom Djinn.
25. septembra bo bend pri založbi Eisenwald Records objavil naslednje skladbe
1. Djinn (7:50)
2. The Great Mirage (6:50)
3. No Place Here (13:40)…
4. In the Absence of Matter (9:49)
5. Forestless (7:55)
6. Between Two Worlds (13:56)
Ovitek je izdelal  Kris Verwimp. Album je produciral frontmen benda Superchi, ki je plato tudi zmiksal in masteriziral. Bobne je posnel Charlie Koryn v studiu Toadhouse Recording.
Zasedba, ki je posnela album Djinn:
Jake Superchi – pevec/kitara
James Sloan – kitara
Nate Verschoor – bas
Josiah Babcock – Session-bobni