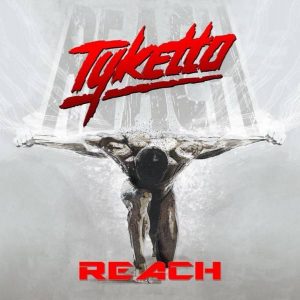 Ameriški melodični rockerji Tyketto predstavljajo, po svojem novem videu za skladbo Reach, še drugi skladbo s prihajajočega novega studijskega albuma! Tokrat so izbrali skladbo I Need It Now, ki ji lahko v celoti prisluhente spodaj. Skladba i Need It Now bo vključena na novi istoimenski studijski album zasedbe, ki bo ob 25. obletnici njenega delovanja izšel pri italijanski založbi Frontiers Records in sicer dne dne 14.10.2016!Album "Reach" je bil v celoti posneti v prestižnem studiu "Rockfield", kjer so med drugim snemali svoja dela Rush in  Queen. Tyketto so  album "Reach" posneli v naslednji postavi:
Danny Vaughn – vokal, kitara, spremljevalni vokal
Michael Clayton Arbeeny – bobni, spremljevalni vokal
Chris Childs (Thunder) – bas kitara, spremljevalni vokal
Chris Green – kitara, spremljevalni vokal
Ged Rylands – klaviature, spremljevalni vokal
Seznam skladb na albumu "Reach" je naslednji;
1. Reach (spot TUKAJ)
2. Big Money
3. Kick Like A Mule
4. Circle The Wagons
5. I Need It Now (Audio trak spodaj)
6. Tearing Down The Sky
7. Letting Go
8. The Fastest Man Alive
9. Remember My Name
10. Sparks Will Fly
11. Scream
12. The Run
13. Precious Little Gets Away (Digital Bonus Track).