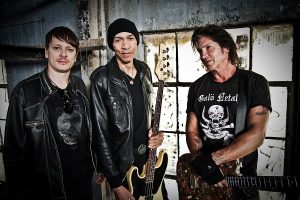 Superskupina KXM je posnela videospot za skladbo Lightning. Ta bo del prihajajočega albuma Circle Of Dolls, ki bo izšel 13. septembra pri Rat Pak Records.
Circle Of Dolls bo vseboval naslednje skladbe:
War Of Words
Mind Swamp
Circle Of Dolls
Lightning
Time Flies
Twice
Big As The Sun
Vessel Of Destruction
A Day Without Me
Wide Awake
Shadow Lover
Cold Sweats
The Border
Skupino še vedno sestavljajo kitarist George Lynch (ex-Dokken, Lynch Mob, The End Machine), vokalist in basist dUg Pinnick (King's X) ter bobnar Ray Luzier (Korn).