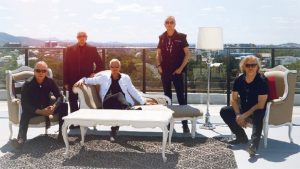 Britanski rockerji Thunder bodo 30 let delovanja obeležili s posebno izdajo, imenovano The Greatest Hits, ki bo 27. septembra izšla pri založbi BMG.
Seznam skladb na tej kompilaciji bo naslednji :
CD1
01. Dirty Love
02. Love Walked In
03. She's So Fine
04. A Better Man
05. Backstreet Symphony
06. Low Life In High Places
07. River Of Pain
08. Like A Satellite
09. Stand Up
10. Living For Today
11. Love Worth Dying For
12. Just Another Suicide
13. All I Ever Wanted
14. Gimme Shelter
CD2
01. I Love You More Than Rock N Roll
02. Loser
03. I'm Dreaming Again
04. The Devil Made Me Do It
05. On The Radio
06. The Rain
07. Wonder Days
08. Rip It Up
09. In Another Life
10. Right From The Start
11. The Thing I Want
12. Future Train [2019 Version]
13. Low Life In High Places [2019 Version]
14. Your Time Is Gonna Come [priredba Led Zeppelin)
CD3
01. Bigger Than Both Of Us
02. Serpentine
03. She's So Fine
04. Blown Away
05. River Of Pain
06. Stand Up
Thunder so januarja letos tudi objavili "kompilacijski" album Please Remain Seated, na katerem so predelali dvanajst svojih skladb.
Vseboval je nasledne skladbe:
01. Bigger Than Both Of Us
02. Future Train
03. Girl's Going Out Of Her Head
04. I'm Dreaming Again
05. Fly On The Wall
06. Just Another Suicide
07. Empty City
08. Miracle Man
09. Blown Away
10. Loser
11. She's So Fine
12. Low Life In High Places