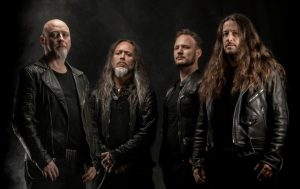 Thanatos so posneli videospot za skladbo The Silent War. Skladba bo del  prihajajočega studijskega albuma Violent Death Rituals, ki bo izšel 20. marca pri založbi Listenable Records.
Za produkcijo je tokrat poskrbela skupina sama, medtem ko je miks opravil Dan Swanö (Edge Of Sanity, Opeth, Insomnium, Evergrey) v studiu Unisound na Švedskem.
Violent Death Rituals bo vseboval naslednje skladbe:
Violent Death Rituals
The Silent War
Unholy Predators
The Outer Darkness
Burn The Books Of Hate
It Always Ends In Blood
Corporate Indoctrination
Sent From Hell (I Infidel)
Legacy Of The Gods
As The Cannons Fade
Nizozemsko death/thrash metal zasedbo trenutno sestavljajo:  vokalist/kitarist Stephan Gebédi (ex-Hail Of Bullets), kitarist Paul Baayens (Asphyx, Siege Of Power, ex-Hail Of Bullets), basist Mous Mirer (ex-Liar Of Golgotha, ex-Melechesh) in bobnar Martin Ooms (ex-Liar Of Golgotha, ex-Sudden Annihilation).