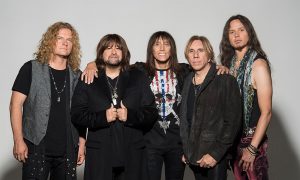 Tesla so tokrat objavili videospot za skladbo California Summer Song.
Album kalifornijskih rockerjev Tesla z naslovom Shock je izšel 8. marca, vsebuje pa naslednje skladbe:
1. You Won't Take Me Alive
2. Taste Like
3. We Can Rule The World
4. Shock
5. Love Is A Fire
6. California Summer Song
7. Forever Loving You
8. The Mission
9. Tied To The Tracks
10. Afterlife
11. I Want Everything
12. Comfort Zone
Tesla so za producenta novega albuma izbrali Def Leppard kitarista Phila Collena. Collen je že sodeloval s skupino Tesla, in sicer pri snemanju pesmi Save That Goodness, ki je izšla v avgustu 2016 in se nahaja kot dodatna skladba koncertnega Mechanical Resonance Live! albuma.
Zasedbo Tesla sestavljajo : Jeff Keith (vokal), Frank Hannon (kitara), Brian Wheat (bas kitara), Troy Luccketta (bobni) in Dave Rude (kitara). Slednji se je pridružil skupini leta 2006 kot zamenjava za Tommyja Skeocha.