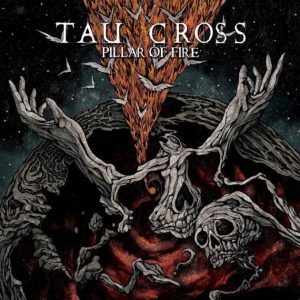 Tau Cross so objavili videospot za skladbo Deep State. Ta bo del novega albuma z naslovom   A Pillar Of Fire,  izšel pa bo 21. julija prei Relapse Records. Album je bil zmiksan na otoku Isle of Sky pod takirko Jamesa Adamsa.  Tau Cross je ekipa zbrana okrog frontmena/basista Roba "The Barona" Millerja iz zasedbe  Amebix , Voivod bobnarja Michela "Away" Langevina ter članov skupin Misery in War ter Plague.
Traklsta albuma je naslednja:
Raising Golem, Bread And Circuses, On The Water, Deep State, Pillar Of Fire, Killing The King, A White Horse, The Big House, RFID, Seven Wheels, What Is A Man in Three Down.
Bonustracks Vinyl + Digital:
Three Down
We Are The Terror
In Time