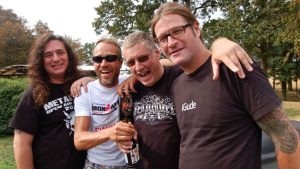 Tankard (letos praznujejo 35. obletnico obstoja zasedbe) so razkrili podrobnosti prihajajočega, 17. studijskega albuma z naslovom One Foot In The Grave. Album bo izšel 2. junija pri založbi Nuclear Blast Records.
Naslovnico je znova prispeval Patrick Strogulski (sicer učenec Sebastiana Krügerja), ki je bil za umetniško podobo zadolžen že pri njihovih zadnjih dveh izdajah – A Girl Called Cerveza in R.I.B..
Traklista albuma je naslednja: 1. Pay To Pray, 2. Arena Of The True Lies, 3. Don`t Bullshit Us!, 4. One Foot In The Grave, 5. Syrian Nightmare, 6. Northern Crown (Lament Of The Undead King), 7. Lock`Em Up!, 8. The Evil That Men Display, 9. Secret Order 1516 ( skladba je posvečena managerju zasedbe, Buffo (Rock Hard) in 10. Sole Grinder.