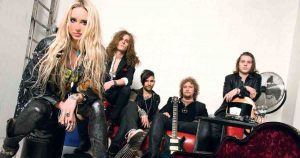 Adrenaline Rush so objavili skladbo Stand My Ground s prihajajočega albuma  Soul Survivor, ki bo izšel 21. aprila pri založbi Frontiers Music.
Skupino sestavljajo Tave Wanning na vokalu, Sam Soderlindh na solo kitari, Alexander Hagman na kitari, Joel Fox na basu in Marcus Johansson na bobnih.
Seznam skladb na albumu je naslednji: 1. Adrenaline, 2. Love Like Poison, 3. Breaking The Chains, 4. Soul Survivor, 5. Stand My Ground, 6. My Life, 7. Break The Silence, 8. Sinner, 9. Shock Me, 10. Wild Side, 11. Don't Wake Me Up, 12. Crash in 13. Soul Survivor (Acoustic Version – Bonus Track Digital Version).