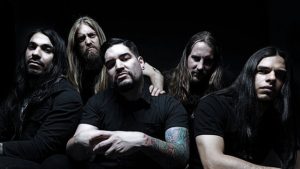 Ameriška deathcore zasedba Suicide Silence predstavlja videospot za skladbo Dying In A Red Room, ki se nahaja na albumu Suicide Silence. Ta je izšel pretekli petek, točneje 24. februarja 2017, pri založbi Nuclear Blast.
Album je produciral Ross Robinson, ki je v preteklosti sodeloval s Korn, Slipknot, Limp Bizkit, Sepulturo idr.. Miks  je opravil Joe Barresi (Tool, Kyuss, Queens of the Stone Age).
Seznam skladb na albumu Suicide Silence je naslednji: 01. Doris, 02. Silence,  03. Listen,  04. Dying In A Red Room, 05. Hold Me Up, Hold Me Down, 06. Run, 07. The Zero, 08. Conformity in 09. Don't Be Careful, You Might Hurt Yourself.