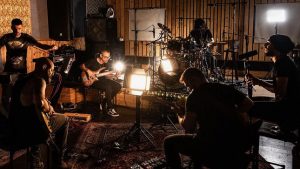 Skupina Subterranean Masquerade predstavlja videospot za single Mångata (ft.Idan Amsalem- Orphaned Land).
Skupina bo 14. maja pri založbi Sensory Records objavila album z naslovom Mountain Fever, ki bo izšel z naslednjimi komadi:
1. Snake Charmer
2. Diaspora, My Love
3. Mountain Fever
4. Inwards
5. Somewhere I Sadly Belong
6. The Stillnox Oratory
7. Ascend
8. Ya Shema Evyonecha
9. For The Leader, With Strings Music
10. Mångata
Ovitek je izdelal Costin Chioreanu.
Gosti na albumu: Matan Shmuely in Idan Amsalem  (oba Orphaned Land),  Ashmedai  (Melechesh) ter  Jackie Hole. Plato je produciral David Castillo, mix in mastering so zaupali Jens Bogrenu (Leprous, Katatonia, Opeth) in Tony Lindgrenu.