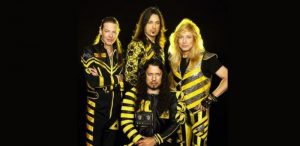 Stryper so objavili videospot za skladbo  Sorry.
Album , ki se se bo imenoval God Damn Evil izide 20. aprila preko  Frontiers Records in vsebuje naslednje skladbe:
1. Take It To The Cross
2. Sorry
3. Lost
4. God Damn Evil
5. You Don't Even Know Me
6. The Valley
7. Sea Of Thieves
8. Beautiful
9. Can't Live Without Your Love
10. Own Up
11. The Devil Doesn't Live Here
Kot je znano, so Stryper v začetku lanskega novembra v svoje vrste integrirali novega basista Perryja Richardsona (Firehouse), ki je v bendu zamenjal izvirnega člana Tima Gainesa.