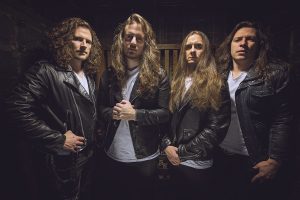 Striker se kupaj  z zasedbo  Sonata Arctica odpravljajo na turnejo!
Kanadčani Striker na tej povezavi predstavlajo   besedilni videospot za skadbo Born to Lose. Ta bo del novega  albuma z naslovom Stand In The Fire (izid 5. februar).
Album vsebuje naslednje skladbe: 1. Former Glory, 2. Pass Me By, 3. Born To Lose, 4. Cheating Death, 5. Shadows in the Light, 6. Rock the Night, 7. Over the Top, 8. Freedom's Call, 9. Curse of the Dead in 10. Desire.
skupaj z zasedbo Triosphere 20.02.2017 DE – Nürnberg, Hirsch 21.02.2017 CZ – Zlin, Masters of Rock Café 22.02.2017 AT – Vienna, Szene 23.02.2017 DE – München, Backstage (Halle) 24.02.2017 IT – Modena, Vox Club 25.02.2017 IT – Rome, Orion 27.02.2017 CH – Zürich, Dynamo 28.02.2017 CH – Solothurn, Kulturfabrik Kofmehl 01.03.2017 CH – Lausanne, Les Docks 03.03.2017 FR – Marseille, Le Moulin 04.03.2017 ES – Barcelona, Bikini 05.03.2017 ES – Madrid, La Riviera 06.03.2017 ES – Sevilla, Custom 07.03.2017 PT – Lisbon, Lisboa ao Vivo 09.03.2017 ES – Pamplona, Totem 10.03.2017 FR – Bordeaux, Barbey Theatre 11.03.2017 FR – Toulouse, Le Metronum 12.03.2017 FR – Lyon, Le Ninkaso Kao 14.03.2017 FR – Besancon, La Rodia 15.03.2017 FR – Nancy, L'Austre Canal 16.03.2017 FR – Rennes, Antipode 17.03.2017 UK – Southampton, Engine Rooms 18.03.2017 UK – Bristol, Marble Factory 19.03.2017 UK – Cardiff, Tramshed 20.03.2017 UK – Nottingham, Rescue Rooms
skupaj z zasedbo Thunderstone 22.03.2017 UK – Manchester, Club Academy 23.03.2017 UK – Sheffield, Corporation Room 1 24.03.2017 UK – Glasgow, The Classic Grand 25.03.2017 UK – Belfast, Limelight 2 26.03.2017 IRE – Dublin, The Academy 28.03.2017 UK – Wolverhampton, Slade Rooms 29.03.2017 FR – Lille, Le Splendid 30.03.2017 DE – Herford, X 31.03.2017 DE – Aschaffenburg, Colos-Saal 01.04.2017 NL – Eindhoven, Effenaar 02.04.2017 NL – Utrecht, Tivoli Pandora 04.04.2017 DE – Köln, Essigfabrik 05.04.2017 DE – Ludwigsburg, Rockfabrik 06.04.2017 DE – Leipzig, Hellraiser 07.04.2017 SE – Malmö, KB 08.04.2017 SE – Örebro, Frimis Salonger 09.04.2017 SE – Gothenburg, Pustervik