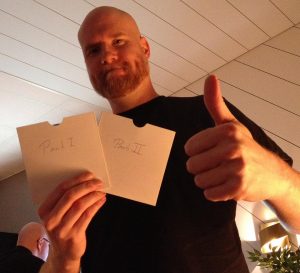 Novembra prihaja album (preko AFM) švedske modernometal  zasedbe Solution .45 " Nightmares In The Waking State – Part I". Skupino sta leta 2007 ustanovila Christian Älvestam (Miseration, Torchbearer, Unmoored, ex-Scar Symmetry) in  Jani Stefanovic (Miseration).
Christian Älvestam- vokali, Patrik Gardberg – kitara,  Jani Stefanovic- kitara in Rolf Pilve na bobnih.
Artwork by Par Olofsson
Layout design by Ogino Design
At the time, the two got together with producer and long-time collaborator Thomas "Plec" Johansson (Watain, Mattias Ia Eklundh, Night Flight Orchestra, Scar Symmetry, Eskimo Callboy) and demoed what would be the first few songs of the group's upcoming album. Coupling heavy riffs with melodic choruses and utilising a 'multivocal' approach is something Älvestam and Stefanovic were not strangers to, but doing so on the scale of SOLUTION .45 was another story. Seeing the potential in the music, the band recruited a full line-up in Rolf Pilve (Stratovarius; drums), Tom Gardiner (Hateform; guitar), and Anders Edlund (Angel Blake, Solar Dawn; bass). Later, the band would also recruit Patrik Gardberg (Ammotrack; guitar) as well.
With a line-up in place, SOLUTION .45 began to hone in on what would be its sound: a decidedly modern metal endeavour; but unafraid of experimenting with progressive song structures or even 80s pop sensibilities. However, in spite of this, SOLUTION .45's chunky seven string groove made it clear that this was also among the heaviest material that any of the band's members had ever worked with.
Being impressed with the unfinished demo songs, Germany's AFM Records and Japan's Marquee/Avolon Inc signed the band to record deals in 2009. With these in place, SOLUTION .45 went back to Plec's Panic Room Productions to finally record their debut album. Entitled "For Aeons Past", and released in March 2010, SOLUTION .45's first full-length effort was unanimously praised by critics and fans as a triumphantly infectious, yet meaty release that the metal scene needed. In addition to the music, "For Aeons Past" not only boasted a lush cover designed by Pär Olofsson, but also featured guest keyboards from Mikko Haarkin (ex-Sonata Arctica) and lyrics written almost entirely from Mikael Stanne (Dark Tranquillity). Immediately after the initial success of the album's release, the band filmed two videos for "Gravitational Lensing" and "Lethean Tears" respectively which have, to this date, received a combined total of almost 300,000 YouTube views—just one of the many incredible feats achieved by a band that had yet to play a single Show.
In late 2011, SOLUTION .45 were invited to play the legendary ProgPower USA festival in Atlanta, Georgia. The band flew over to the USA to play its first show ever in September 2012 — some had flown in from as far as Japan just to see the performance. The festival appearance was a revitalisation for the band, keeping an already fresh act even more relevant in the eyes of its fans.
Shortly after their first show, the band unfortunately parted ways with bassist Anders Edlund. The group, however, was still in high spirits and was confident in delivering yet another feast for the ears of their fans.
The first sketches for demos began in early 2013 and were promising. It was clear from the very start that the new album would give fans what they expected and then some, as well as a lot more unexpected elements. The band had a unified vision for the new album. They wanted it to be darker and more aggressive. They wanted to develop the sound found on "For Aeons Past".
Negotiations started with AFM Records, with the band letting them know that they were in the middle of writing new material. Along the way, the band just kept on writing until they realised that they had more than enough for one album; too many good songs to just throw away. That´s when the idea of making a double album came to mind. After further negotiations with their label (AFM Records), it was agreed. Solution .45 would make two albums in one go. The double album would be split into two separate releases; a part I and a Part II release.
The band entered The Dug-out studios in September 2014 with will-reputed Daniel Bergstrand (Meshuggah, In Flames, Soilwork, Darkane) behind the wheel to record the drums. Nineteen songs were tracked by Rolf Pilve. The band was finally on the move.
In September 2014, the band had a sad break up in the middle of the writing process, with Tom Gardiner deciding to leave.
September didn´t just come with bad news though. The month also had something else in store besides break ups. Patrik Gardberg and his wife had their first child with their daughter being born. The fall of 2014 turned out to be a heavy season for the band with multiple deaths among relatives and friends. Needless to say, that this put some brakes on the whole writing process. Music had to step aside and it was time for the band to grieve.
Coming into 2015, it seemed like the worst was over or had settled down at least. The pain of losing those close to us is always remembered but there comes a moment where you have to pick yourself up and move on with life. The band needed some good news and so it came in February 2015 when Jani Stefanovic and his wife got to greet their firstborn daughter.
Despite the deaths and births, the albums needed to be done. Guitars, bass and vocals were being tracked at full speed. Deadlines were established, mixing and mastering dates were booked, and cover designs were being drafted by the well-reputed Pär Olofsson. In June 2015, the band finally entered The Panic-Room Studios with their friend and long-time collaborator Thomas "Plec" Johansson (Watain, Mattias Ia Eklundh, Night Flight Orchestra, Scar Symmetry, Eskimo Callboy.
It turned out to be a monstrous project to assemble and the most complex and most challenging mixing task to date for everyone involved. After numerous attempts and after an unreasonable amount of work hours, you could call it inhumane even they finally got it all together.
At the beginning of the process, the band desired to develop their sound from "For Aeons Past", but the end result turned out to be so much more. After hearing the final results, the band quickly realised what they had accomplished. The new direction contained all the ingredients "For Aeons Past" was known for but with added groove, aggression and darker elements. A dynamic journey from soft moody parts to soaring aggressive, darker elements. The end result was something that older fans would find familiar with a heavy dose of "and then some".
Right on the doorstep before the first release, Christian Älvestam and his girlfriend had their firstborn – a son. Meanwhile, the band is preparing to collaborate with none other than Patric Ullaues (In Flames, Amaranthe, Evergrey, Arch Enemy) to shoot the upcoming videos for both parts I and II.