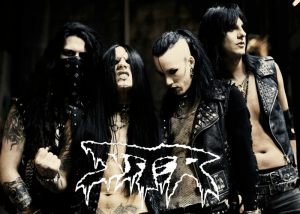 Švedski sleazerji Sister predstavljajo  video za singlco Carved In Stone. Ta se nahaja na prihajajočem studijskem albumu z naslovom Stand Up, Forward, March!(Metal Blade).
 Seznam skladb na albumu Stand Up, Forward, March! je naslednji:01. Destination Dust, 02. Carved In Stone, 03. Lost In Line, 04. Trail Of Destruction, 05. Carry On, 06. Unbeliever, 07. Let It Bleed, 08. Liberation Song, 09. Dead Man's Dirt, 10. Endangered Species in 11. Piece Of Shame.
Sister 2016 so: Jamie Anderson – vokal, Tim Tweak – kitara, Martin Sweet – bas kitara (zamenjava za  dolgoletnega basista zasedbe -Rikki Riota) in Cari Crow – bobni.
Album je bil posnet v mestu Upplands Väsby (na Švedskem), s skupino pa je pri tem sodeloval producent Jona Tee iz zasedbe H.E.A.T., medtem ko je za miks albuma poskrbel Tobias Lindell (Avatar, Crash Diet, Mustasch, Europe, Hardcore Superstar in drugi), mastering zvoka pa je prevzel Christian Schneider v studiu Scandinavian Mastering.
Sister so obelodanili tudi termine nove evropske turneje z nazivom "Destination Dust", ki se bo odvila  novembra in decembra letos. Za predskupino turneje so izbrani Noise Pollution.
29/11/16 Nemčija – Hannover – Lux
30/11/16 Nemčija – Frankfurt – Das Bett
01/12/16 Nemčija – München – Backstage
02/12/16 Nemčija – Burglengenfeld – VAZ Pfarrheim
03/12/16 Nemčija – Oberhausen – Ruhrpott Metal Meeting
06/12/16 Španija – Barcelona – Sala Boveda
07/12/16 Španija – Madrid – Sala Lemon
08/12/16 Francija – Montpellier – Black Sheep
09/12/16 Švica – Lenzburg – Met-Bar
10/12/16 Italija – Vercelli – Occifine Sonore
13/12/16 Francija – Paris – Le Klub
14/12/16 Velika Britanija – London – The Underworld
15/12/16 Belgija – Roeselare – De Verlichte Geest
16/12/16 Nemčija – Berlin – Maze Club
17/12/16 Danska – Copenhagen – High Voltage