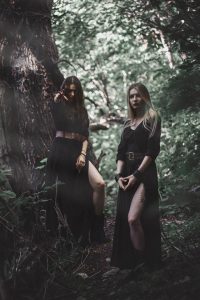 Rotting Christ so objavili besedilni videospot za skladbo Ветры злые (ft. Irina Zybina)
Na fotografiji Irina in Aliya Latypova iz zasedbe Grai.
Grški veterani ekstremnega metala Rotting Christ bodo 15. februarja pri založbi Season of Mist izdali nov studijski album z naslovom The Heretics.
Naslovnico za album je prispeval grški umetnik Maximos Manolis.
Seznam skladb na albumu The Heretics bo naslednji:
01. In The Name of God (04:14)
02. Vetry Zlye (03:13)
03. Heaven And Hell And Fire (04:52)
04. Hallowed Be Thy Name (05:06)
05. Dies Irae (03:46)
06. I Believe (03:42)
07. Fire God And Fear (04:50)
08. The Voice of the Universe (05:23)
09. The New Messiah (03:07)
10. The Raven (05:23)
Rotting Christ so:
Sakis Tolis: vokal, kitara, klaviature
Themis Tolis: bobni
George Emmanouil: kitara