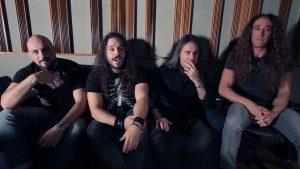 Rhapsody of Fire  napovedujejo izid (26. maj, AFM)  posebne izdaje oziroma albuma Legendary Years. Na njem bodo ponovno odigranime in posnetime skladbame, ki so nastale v obdobju delovanja skupine med letoma 1997 in 2002.
Skladb bo skupno štirinajst, pod vse pa sta se podpisala klaviaturist in šef skupine Alex Staropoli ter nekdanji kitarist Luca Turilli. Skladbe veljajo za kultne klasike začetne ere delovanja skupine, ko je ta ustvarjala še pod imenom Rhapsody.
Tracklista je sledeča: 01. Dawn Of Victory, 02. Knightrider Of Doom, 03. Flames Of Revenge, 04. Beyond The Gates Of Infinity, 05. Land Of Immortals, 06. Emerald Sword, 07. Legendary Tales, 08. Dargor, Shadowlord Of The Black Mountain, 09. When Demons Awake, 10. Wings Of Destiny, 11. Riding The Winds Of Eternity, 12. The Dark Tower Of Abyss, 13. Holy Thunderforce in 14. Rain Of A Thousand Flames.