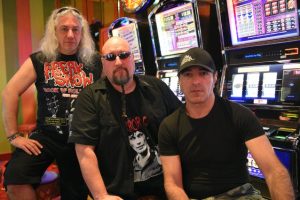 Refuge predstavljajo skladbo Mind Over Matter. Skladba bo del albuma Solitary Men, ki izide 8. juija pri Frontiers Music.
Za imenom Refuge se skriva postava zasedbe Rage  (med leti 1987 in 1994) in sicer, Peavy Wagner, Manni Schmidt  in bobnar Christos Efthimiadis.
Skladbe albuma so naslednje:
1.    Summer's Winter
2.    The Man In The Ivory Tower
3.    Bleeding From Inside
4.    From The Ashes
5.    Living On The Edge Of Time
6.    We Owe A Life To Death
7.    Mind Over Matter
8.    Let Me Go
9.    Hell Freeze Over
10.    Waterfalls
11.    Another Kind Of Madness (bonus)
Album je porducirala skupina Refuge, mix pa so zaupali  Danu Swanu.