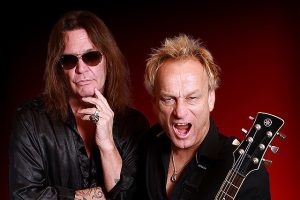 David Reece (Accept, Bonfire in Bangalore Choir) je za prihajajoči samostojni studijski album združil moči z  nemškim kitaristom Andyjem Susemihlom  (ex-U.D.O., ex-Sinner). Tako je v sodelovanju nastal album  z naslovom Cacophony Of Souls, ki vsebuje naslednje skladbe:
01. Chasing The Shadows
02. Blood On Our Hands
03. Judgement Day
04. Collective Anaesthesia
05. Cacophony Of Souls
06. Another Life Another Time
07. Metal Voice
08. Over And Over
09. Back In The Days
10. A Perfect World
11. Bleed
12. No Disguise
Reece – Cacophony Of Souls bo izšel 13.marca preko založbe El Puerto Records.
Na albumu sodelujeta tudi  basist Malte Frederik Burkert (Exototis) in bobnar Andrea Gianangeli (Dragonhammer, Souls Unchained).