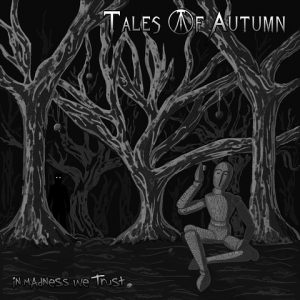 Tales Of Autumn– In Madness We Trust
samozaložba, 2018
Ali se mi samo dozdeva ali je dejansko res, da se v zadnjih nekaj letih dogaja poseben preporod starih zavez progu in heavy metalu, kot se spodobi pa veliko novih imen ter glasbenih poskusov prihaja iz severa Evropa – natančneje iz Velike Britanije. Tako se je nekako po dobrih štirih letih od ustanovitve zgodil tudi prvenec četverca iz Brightona, ki si je nadel precej na doom melanholijo navlečeno ime Tales Of Autumn, imenu primerno pa kvartet izvaja tudi precej otožno in na patos trpečega Verterja navlečeno tematiko mentalne obolelosti, trpljenja, paranoje, depresije, samomorilskih teženj, shizofrenije ter še česar okusnega ter jesenskemu času primernega. Prvenec nosi, kakopak, ime In Madness We Trust. OK, pa preidimo od shematskih opisov v globino sivine.
Že po prvem poslušanju plošče je jasno, da so fantje po svojih slušnih vodih spuščali veliko Dream Theatrov, Opethov, dodajali v prog vplive ortodoksnega heavy metala, mladci, o katerih lahko uvodoma preberete bolj malo, saj so se (namenoma ali ne?) zavili v tančice obskurne anonimnosti, zgolj le to, da so svoj košček sobivanja v istih koordinatah glasbenega univerzuma nekako našli Stefanos Karantonis na vokalu in kitari, ki mu priteguje bolj solistično naravnana kitara Toma Kigginsa, precej oklesteno ritem sekcijo točnih, a predvidljivih razsežnosti pa predstavljata Jordan Dann za bobni in Nick Horton na basu, pa radi ponavljajo sebi primeren monotoni napev in recepturo. Plošča je precej monotona, sicer dobro uigrana zasedba pa se tako rada giblje v sferi varnega dometa ne pretirano hitrega muzIciranja. Sanjavi in senzualno dobro odigrani uvod z Rambling Of A Maniac je morda svoj melodični vpliv iskal tudi pri Iron Maiden in Diu, precej dobro zastavljene konture lepih kitar in lepega nalaganja plasti pa dokazujejo, da imajo fantje dober občutek za skladnost, razmerja za inštrumentalno zasnovo, malo manj pa je občutka za to, kako prehajati v tempu na delovno temperaturo, ki bi bila bližje masam. Solidna trpeča serenada ni ravno zgodba o morilskem manijaku, temveč bolj pripoved patetičnega ranjenega osebka, ki se raje kot nasilju nad drugimi posveča nasilju nad samim seboj. Instrumentalno ne manjka nič, mi pa postane takoj jasno, da se s temi jokavimi in zateženimi cmeravimi vokali ne bom razumel najbolje. Že nadaljevanje z enako otožno, a vsaj decibelno bolj odprto skladbo Worthless plava v isti smeri senzualnega tripa v molu in prav zlahka bi bilo to naravno nadaljevanje uvodnega komada, Tales Of Autumn pa svojo liriko jamranja nadaljujejo na istih postavkah. Life Of Agony so imeli nekoč le malce različnosti, namesto tega pa mladi Britanci ponavljajo shematiko monotonije, no, do komada Clash, ki doda po uvodnem letečem rifu na ogenj svetobolja malce več ostrine in želje po dvigu na nek drug plato. S prisiljenim vibratom in rahlim falzetom pokvari vse pevec, ki ubije libido s sebi lastno enolično molovsko intonacijo. Čemu? S tem se ubije dinamika okusno zastavljenega proga, ki dopušča z notranjimi nastavki več igranja ter prehajanja od slišanega melosa k več besa, ki pa ga Karantonis očitno namensko pobija in tlači vase.
Separated margine negativnega čutenja ne spreminja, v molu gomazeči konglomerat ponavljajoče repetitivne teme pa se vleče kot podaljšano kurje črevo kot jara kača nadalje čez skladbe In The Dark, začuda se namesto usranega pesimizma na skladbi Basement zgodi pozitivni dvig z bobni, na funk naravnanim basom ter optimistično kitaro, le pevcu bi bilo potrebno vsaj za hip prepovedati zlorabljanje dobrega s svojim vokalnim repertoarjem prej slišanega bulšita, ki pokvari ter se meša v krasno solažo ter v potencialni dobri splet več kot solidne melodike ter ritma. Mladci imajo hude omejitve ter s strahom, da bi bili nekorektni, da bi izpadli nekompetentni raje gulijo isto vižo vedno znova in znova, empirični dokaz za to pa je v ničemer izstopajoči Broken System, žalostno razvodeneli Final Confession ter sklepni udarec v prazno s skladbo She's Watching.
Kaj za vraga je narobe s tem svetom, da mladci prodajajo otožno sranje, kot da je brezup osnovna maksima eksistence? Kje so jajca? Kje je odločnost? Da ne bo pomote – fantje znajo muzicirati in premorejo nek notranji draž, ki ohranja pri poslušanju tisti depresivni del moje nature, ki ji jok in sivina godita, je pa res, da je plošča preveč monotona, da bi ji lahko pripisoval status izdelka z veliko potenciala, z veliko naboja ali s presežno energijo. Vse se prekomerno vleče, precej plitka lirična vsebina pa nagovarjajo k temu, da bi tudi dosledni pacifist vzel v roke krepelce ter do konca pobil tega cmeravega bednika od romantičnega trpečega osebka, ga zagrebel pod fikus ter na isti dobri substanci dodal nekaj z več jajci, duše ter več volje do življenja.
SANDI SADAR ŠOBA
OCENA: 6 / 10
Recenzija: Tales Of Autumn – In Madness We Trust