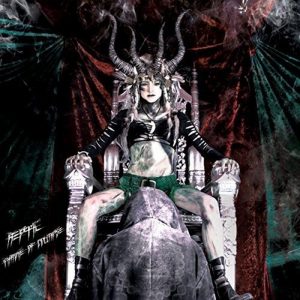 Reptil  – Throne Of Collapse
Razor Music, 2017
Ne vem, s čim se hranijo v Nemčiji, a v zadnjem času je večinski delež industrial eksperimentalov podpisan prav s trobojnico Nemčije, zadnji v nizu razodetij, ki koketirajo z mehatroniko Marilyn Mansona, Nine Inch Nailsov, Robom Zombijem in Ministry ter verjetno s čim, kar bom tu uvodoma namensko izpustil, kölnska zasedba Reptil, ki je svojo pot v glasbeno Valhalo zasnovala tako, da s prvencem najprej rušijo trone uzurpacije in prinašajo na pladnju svoje črno satansko srce s ploščo Throne Of Collapse. Okultni deveterec obredno prozaičnih skladb se na brvi med Reznorjevo elektronsko ostrino in Mansonovo patetično provokativnostjo, maškarado in poskusi šokantnosti z diaboliko in pentagrami sprehaja od formalne arbitrarnosti »legitimnega« v industrijski vodah anorganske metalurgije do kontroliranih izpadov, ki so bolj kot eksperiment drznosti skok v dobro znane in že slišane ter okušane sonične vode. In to še nekako oprostimo, saj od mladcev brez poprejšnjih izkušenj kaj več tudi niste pričakovali, mar ne?
Prvenec Throne Of Collapse je že na prvi pogled izdelek, ki stavi vse preveč na formo in ne na vsebino, kar je z ozirom na splošno družbeno maksimo, po kateri je vsebina drugotnega pomena, saj je instant lažje pograbiti z razredčenimi substrati kozmetike, površinskosti in igre na prvo žogo. In tu je to evidentno do obisti, saj se za demonično povrhnjico nič več šokantne diaboličnosti in demonskosti skriva precej gol skelet formalizmov in »wannabe« estetike. Anger Empire kot teatralični uvod z eklektičnimi bobni, ki bi bili zlahka brez ločnic povezani s skladbo Reptoil Inc. v enovito celoto in ne v dve ločeni entiteti. Reptil pojejo z glasom Marilyna Mansona, z narativom histerije in stavi na anonimnost. Imen izvajalcev, ki z bobni, ki so anorganski, amorfni, z basom in kitaro, ki so sintetični, s pojavnostjo, ki želi za masko skriti krhkost svoje lastne biti. Reptoil je morilski zvok mašine, ki premika zombije sodobnega časa v stanje predvidljivega predprogramiranega delirija. Na Mnemice navlečeni Monolith ne skrene s kurza mansonijade niti za ped. Nabijanje na polno, a brez dejanske notranje moči se s senzualnim medmetom skladbe Irreversible, ki je vnovič le intro, le mašilo, polnilo, pripelje do skoraj osmih minut naslovne skladbe Throne Of Collapse. Ponovljena melodična tema, a z več distorzij, več grmenja in zloveščosti, morda celo s ščepcem več organskosti v svojem bistvu, je nedvomno močnejši izdelek plošče. Vdih dima popolnega občutja brezupa in mraka, dialog moškega in zamaknjenega in v ozadje potisnjenega ženskega glasu fura počasni splet implozivnega obrtništva sicer suvereno dalje, a pod povrhnjico ni veliko materije za zobanje.
Apokaliptični narativ se razvleče še bolj s skladbo One World One Nation, v katerem so vsi črni in beli obenem in, človek, vsi smo v istem sranju. OK, psalm odrešitve ima vse – tudi akustično kitaro in sanjave efekte, izza katerih se v težnji po samouresničitvi ambiciozne glamuroznosti nadaljuje dodajanje atmosferičnih dodatkov, ki nimajo s pojmom industriala veliko skupnega, morda pa je v liriki Simona Salema Müllerja moč najti več asociativne zveze z Bowiejem kot s prej slišano demonično prezenco, ki je, ponovno, zgolj površinska. Soulride preide nato vnovič v bolj dirigirane digitalne vode. Mehanski NIN vajb, prek katerega se vokali nizajo tokrat bolj v maniri Jonathana Davisa in Korn. Mimikrija in posnemanje niso recept za uspeh, dragi moji, a je vseeno nekoliko lažje slediti malce predrugačeni formi ter se pritipati do skladbe Quantum Trojan. Narcisistični triumf prazne individualnosti, plehka prosojnost forme, ki želi provocirati, dejansko pa smo dejansko sedaj v fazi katarze in čiščenja organizma s klistirom, zvarjenim iz kislice, drobci in okruški, ki na daleč, ampak, res na daleč, v svojih asociacijah s trobentami spominjajo na Laibache v industrial fazi, le da so Laibach dedci z vsebino, Reptil pa so … No, ja … Reptil … In nato še trance sklep s skladbo Beyond, po kateri se vse sestavi v popolno sliko (ali tudi ne).
Pa strnimo impresije. Reptil so bili v svoji nameri ustvariti soliden in pravoveren industrial album morda malce preveč omejeni na zgolj dve, tri ali štiri, v začetku omenjene reference, s katerimi se namesto ekspozicije širine ponuja bolj ozko polje dovoljenega, ki se omejuje po lastni volji in inerci. Ni šokantnosti izven polja kostumografije, ki, verjamem, zna pritegniti koncertno. Na polju slišanega je preveč pomagal, predvidljive metrike in brezveznih kulis demoničnosti, ki nima nekega globljega smisla. Morda, če pristanemo na teorije zarot in priznamo, da živijo reptiljanci med nami in da gre zgolj za akt vzpostavitve novega svetovnega reda v službi dominacije svetu, a dvomim, da so Reptil glavno in najmočnejše (glasbeno) orožje tega reda. Vsekakor je bilo interesantno preposlušati zvok sesutja vseh fragmentov v koherentno celoto, a naslednjič od pregovorno pedantnih Nemcev pričakujem več.
SANDI SADAR ŠOBA
Recenzija: Reptil – Throne Of Collapse