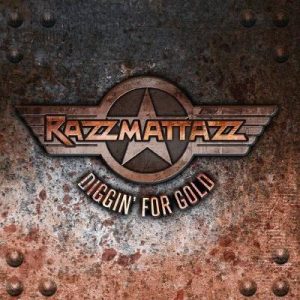 Razzmattazz – Diggin' For Gold
Fastball Msuic, 2017
AC/DC so bili bend, s katerim sem se spustil v svoj življenjski boj za nadvlado moje duše in zavoljo tistih dveh ali treh akordov oddrgnjenih s temperamentom bil obsojen na sladko pogubo, katero nikoli nisem in ne bom obžaloval. Prav zato mi je bilo eno lepših daril, ki sem jih odvil ter dal na preizkušnjo ter dokazovanje v tem mesecu nedvomno tretji plošček prekaljenih nemških veteranov Razzmattazz, ki po 34-letnem klajenju ter sedaj že sedemletnem skupinskem delu tokrat zahteva svoj košček obilja s ploščo Diggin' For Gold. Ali recept treh akordov in jeklene preproste poze mačističnega dedca po AC/DC, ZZ Top in Status Quo še funkcionira? Kaj mislite?
Že po prvem posluhu plošče začutite tisto naelektrenost in občutek, da ste se v dvanajstih postankih plošče pri oceni »odlično« ušteli vas prevzame do zadnjega vlakna telesa, zato predlagam, da ploščo spustite na repeat, odprete pivo, priprete oči ter se predate tisti preprosti resnici, po kateri je lahko manj velikokrat več kot ste lahko od kogarkoli pričakovali. Razzmattazz so enostavno tako dobri in, da, power blues s primesmi boogieja še vedno seka! V bistvu se k purizmu doda prefinjeni odmerek NWOBHM-a, s katerim je po Rock'n'roll Heroju ter po Sons Of Guns čas za prevetritev ter vnovično priznanje, da Bad Mike Bösinger za bobni, Tom Schaup na kitari in za mikrofonom, Tommy Wiegand na basu ter Wolle Heieck na drugi kitari poznajo svoj posel do obisti.
Uvod z Diggin' The Gold potegne iz malhe tistega dobro znanega poliranega strupenega zajca, s katerim sta brata Young z Johnsonom, Ruddom in Williamsom stregli v zlati dobi rock'n'rolla ter v zlati eri AC/DC genijalnih komadov naredili premet od kozmetike polnega rocka v bolj preprost in po mojem okusu nadnaravno boljši groove. Pri Razzmattazz deluje vse na podobni substanci in ne manjka niti ravno prav nakazanih shematičnih solažic, Tom pa bolj kot Brian zveni kot Bon Scott. Seksi, zapeljivo in udarno, nato pa s skladbo Older Than Dirt pademo v boogie prvih šestih plaz ZZ Top ali prvih treh albumov prej omenjenih neustavljivih Avstralcev. Dobro postavljene kitare, trdna in kompaktna ritem sekcija ter uživaški drajv, s katerim se odpira še zadnje kotičke dvomljive duše in si pusti zadihati na polna pljuča! Fantastično in nalezljivo!
Bolj po NWOBHM-u dišeči Bad Girls Good Loving je udarni komad, pod katerim bi se prav zlahka podpisali tako Status Quo, če pa sem provokativen, nismo daleč od polja dobre igre starih dobrih Mötley Crüe. Uživaštvo in testosteron iz sleherne pore, pridih dobrega, strasti polnega fukoholičnega uživaštva ter zabave z ojačevalci pa peljejo vlakec užitka suvereno dalje za vse solde. Rockerji so tudi senzualci in All Lights On Me na okusen način prikliče v celoto podobo Ozzyja na baladni način, Razzmattazz pa si dajo v ravno prav umazanem koketiranju z arenami polnimi prižganih lučk dovolj prostora, da decibelni Holy Molly ne izpade izumetničeno v svoji skoraj funkoidni igri s čuti. Lepe kitare in nato spet ta strupeni ZZ Top feeling, zaradi katerega začnete samodejno poplesovati, čeprav ne marate plesa. City Of Dreams vas odpelje vnovič na pot po zaprašenih stranpoteh Nevade v tistem razgretem Pontiacu ali Chevrolletu kot ta prave dedce in ne kot hipsterske nebodijihtreba, ki poznajo in znajo samo servilnost površinskosti ter metroseksualnosti.
Expect No Mercy nadaljuje svoj retrospektivni zdrs v osemdeseta z efektivnim in preprostim komadom, ki namesto s privijanjem, piski in distorzijami hipnotizira s pedantno odigranimi, preprostimi, a učinkovitimi ritmičnimi figurami in s tem lepo učinkovitim Tomovim vokalom. Back To You doda v koncept malce več odmeva, reverba, občutka sakralnosti, ki se s tremi akordi staplja v preprosto, a morda le malce prisiljeno skladbico, ki je verjeli ali ne, edina šibka točka plošče in še to pogojno do dveh minut in pol, ko se registri razprejo in dobi repeticija malce več globine in resonantne udarnosti. Yes I Like It spomni na Whole Lotta Rosie in AC/DC učinkovitost, s Hole In The Sky pa smo zelo blizu Deep Purplom s plošče Come Taste The Band, kar tudi ni slabo. Rekel bi »seksi!«, a bi se potem le nekoliko ponavljal. Like A Shot Of A Gun se poigrava s formulo Stiff Upper Lipa, s tem, da Razzmattazz ne zvenijo pri svojem oponašanju referenc iz preteklosti kot obrabljeni neizvirneži, ki jih lahko slišite na večini bikerskih shodov. In nato sklep z That's All I Want. Fantastični blues suspenz, krasne kitare in krasna igra čutov se nato sklene in nato stopitee v kuhinjo po nov kos kruha, da boste po vnovičnem obratu plošče suvereno pomazali vso slastno mast in slast s površja plošče, ki je resnično vredna zlata.
Matervola, nekatere stvari se enostavno ne da izboljševati z dodajanjem in je dejansko boljee ostati zvest recepturam iz izvirnih knjig preteklosti. Razzmattazz morda niso najizvirnejši bend, kar ste jih ali jih še boste spustili v svoje življenje, a verjemite, da so le redki takšni, da jim pustite tam tudi ostati, navihanim in iskrivim Švabom pa bom to vsaj sam le pustil. Diggin' The Gold je plošča, ki vam bo zlezla pod kožo ter bam kot strupeni elemental s sleherno skladbo vnesla v življenje malce tistee preproste in uživaške energije iz časov, ko so se ljudje še znali smejati, zabavati, so znali biti srečni in so bile za to potrebne preproste stvari ali zgolj družba pravih ljudi, s katerimi vam ni težko oditi na pivo in sočno debato.
SANDI SADAR ŠOBA
Recenzija: Razzmattazz – Diggin' For Gold