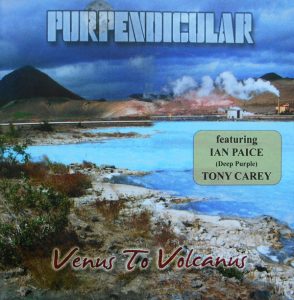 Purpendicular – Venus To Volcanus
(FastBall Records, 2017)
Nisem, no, v veliki meri nisem naklonjen tribute bendom, saj je vedno moteče, da se lahko sicer nadarjeni glasbenik identificira s svojimi vpliv o te mere, da ni sposoben ali voljan iz sebe srkati navdih ter dati svetu nekaj svoje lastne glasbe, sicer pa je tu tudi tisti pregovor, saj veste, o ptiču in tujem perju. Purpendicular te svoje naravne naravnanosti v smer Deep Purplov niti ne skrivajo – še več: s tem si od leta 2007 uspešno služijo kruh ter plačajo položnice. Prav previdno sem se lotil plošče Venus To Volcanus, saj imam do Deep Purplov osebno afiniteto, še posebno do klasičnega in produktivnega Mark II obdobja, do ere, kjer so poleg Blackmorea, Lorda in Paicea na odru stala še izvrtni Glover ter nekda res izvirni Ian Gillan, pogojno pristajam tudi na epizodo s Coverdaleom in neverjetnim Glenom Hughesom ter Bolinom na Mark IV in poprej na Mark III, nisem bil pa nikoli poglobljeni poslušalec zasedbe Rainbow. Skoraj blasfemično mi je bilo torej pomisliti, da si en tribute bend tokrat v izvirni glasbi sposoja omenjene vplive ter jih prodaja kot lastna jajca, a je bil že prvi obrat plošče dovolj, da sem svoje zadržke opustil, seveda s pomembnim opozorilom samemu sebi, da vse le ni tako izvirno in brez napak.
Venus To Volcanus je faktično plošča iz formaldehida, Purpendicular pa so res izjemni interpreti, super glasbeniki, zakar niti ne čudi dejstvo, da so k sodelovanju uspeli zvabiti dva izjemna izvirna člana Blackmoreovih soldatesk – gospoda Iana Paicea ter celo gospoda Tonyja Careya iz Rainbow. In kaj nastane? Iskreno rečeno to, kar sam označujem za zlati zvok Purplov ter avtentični zvok Rainbow. Najprej je tu izvrstni glas Robbyja Thomasa Walsha, ki zlahka sedla z Gillanove štime v glasovni domet in občutje Coverdalea, pa ti krasni Hammondi in ti na trenutke ravno prav futuristični sinti Oliverja Klammta, masivni bobni Murgena Zinka ter solidni bas Winnieja Butcherja, kar me pa osebno malce le zbode so te pretirano nabrušene in modernizirane kitare Herberta Butcherja, ki pa vseeno prekleto dobro in do obisti pozna finte, fraze in prijeme zloglasnega Ritchieja. In to od uvoda z zelo dodelano skladbo The Bullet. Prekleto, prav album Machine Head mi pade na pamet, saj se Robby kot za šalo poigrava lirično in vokalno z Gillanovimi vzorci in načinom petja. Strupeni Hammondi lepo barvajo, malce preveč čebelic v kitarskem zvoku pa tudi nekako oprostim, nakar Purpendicular po izjemnem uvodu ter dobrem razbijanja ledu peljejo vlak retroidnosti še malce dalje – v dobo Rainbow s skladbo Moving s tistim feelingom osemdesetih. Fak, kot bi vmes slišal tudi Coverdaleov funky groove v navezi z Glenom Hughesom iz zadnjih let pred razpadom ter dolgoletno pavzo Purplov. To je glasba, odigrana s pravo mero žara in z izjemnim ter za to potrebnim občutkom. Kapo dol!
I Can't Win Them All logično nadgrajuje zvok z malce arabeskoidnim povratkom v sfero Gillanovih vokalnih kranclarij, da po tej kar naenkrat zajadramo v eno lepših balad plošče, na izjemni komad Absence. Doneče orgle in lepi upočasnjeni rif, lepo razgrajene harmonije in te epske plasti, ki so pri Purplih kocinile ter dvigovale temperaturo. Atmosfera se z emocionalno pesmijo o pogrešanju, o odsotnosti, o strasti prav lepo gosti, da na futuristični Wonderful s temi funkoidnimi kitarami, bolj moderniziranimi klaviaturami Tonyja Careya za bobni ritmizira in predstavi svoj superiorni naravni občutek za ritem gospod Ian Paice osebno. Lepa kemija, zanimiva sanjava solaža na klaviaturah, a težko rečem, da je prav komad, na katerem gostujeta obe eminenci glasbene preteklosti najboljše, kar plošča ponuja. Tudi nadaljnji komad End Of Pain, ki ga je za akustiko spisal Walsh ni tista prava stvar, bližje temu je nagajiva funky skladba We Both Go Down, še bolj umazana coverdaleovska interpretacija na Evil Tongue. Nato so tu malce repeticije že slišanega, no, vsaj po feelingu s klasično gillanovskim bluesom na Trouble Man, bolj na osemdeseta naravnani Earth Sand ter meni okusnejši finale z orglami in kitarskimi standardnimi blackmorizmi na No Rest.
Iskreno rečeno – niti ni bilo tako slabo, le da si mora človek dopovedovati, da so to sicer izvirni komadi, narejeni po kalupih Deep Purple in Rainbow, čeprav bi bili prav zlahka podpisani tudi z imeni obeh bendov, poslušalo pa bi se vse enako fino. In tu je nevarnost, saj se kaj kmalu zalotim v tem, da namesto enih dobro uigranih tributašev nekje v malih možganih ves čas vidim stare može primarne postave, namesto zgolj pozlate pa poskušam v celoti slišati čisto zlato. Vsekakor je Venus To Volcanus solidno odigrana plošča, na kateri znanja ne manjka, je pa v izvirnem bore malo originalnega. Zaprisežene ljubitelje klasičnih Purplov ter Rainbow to ne bo nikakor motilo, saj so Purpendicular izvrstni iluzionisti, za ostale, zahtevnejše pa je tu na posluh dana čedna plata, ki ne prinaša nič novega in nič revolucionarnega, temveč gre zgolj za umetelno in dobro odigran obrtniški izdelek visokega sijaja. Tudi to ni slabo, a je tu še vedno nek čuden, suh priokus nezavedne grenkobe, saj je še tako dobro narejeni ponaredek še vedno ponaredek, še tako dobra simulacija izbruha vulkana pa v vsej svoji varnosti in ziheraštvu predstavlja le bledo senco in približek nepredvidljive in fascinantne naravne sile pravih usodnih izbruhov ognja in pepela.
SANDI SADAR ŠOBA
Recenzija: Purpendicular Venus To Volcanus