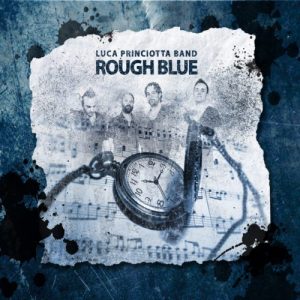 Luca Princiotta  Band– Rough Blue
Metalville Records, 2018
Talent in občutek za kitaro so tisto, kar loči tehnike in nadudlane hitroprstneže od tistih, ki jim je kitara naravni podaljšek duše, mladi, leta 1982 rojeni italijanski virtuoz Luca Princiotta pa je svoj status težkokategornega obvladača doslej dokazoval že v zasedbi Blaze z Blazeom Baleyom po tem, ko je umrl Steve Wray, ustanovni član zasedbe, že debelih deset let pa krepi soldatesko tudi ob Doro Pesch, se pa v CV-ju talentiranega glasbenika najde tudi imena, kot so Uli John Roth, Chris Caffery, Andre Matos in še kaj. Letos se mladec predstavlja s svojo lastno produkcijo in verjetno enim boljših izdelkov moderne kitarske produkcije, s spremljevalno zasedbo Luca Princiotta Bandom, ki ga tvorijo basist zasedbe Dreamshade Gian-Andrea Costa, Rocco Lombardi za bobni ter Matteo Bertini na vokalih pa servira kakovostni blend težke bluesovske melodike s hard rock primesmi, izleti v jazz, izvrstna večinoma instrumentalna glasba pa ustvarja močno atmosferično kuliso za en res pozitiven glasbeni trip v sfere lepega.
Rough Blue je fantastična zbirka desetih avtorskih skladb, katerih osrednja nit je navezava na karakter, umazanijo in inteligentno dirigiranje dogodja s strani potentnega Luce. On Board z mastno produkcijo ter krasnimi kitarami, ki spominjajo na delo kalibrov kova Bor Zuljan če smo bližje domačim logom, je pa pridih Joe Satriani igrivosti in kontrastov močnih distorzij ter fantastičnih vragolij po vratu kitare tisto, kar daje vedeti, da ni kitara tokrat le inštrument za pecanje brhkih deklin, temveč gre za resno orodje. Slednjega Luca do obisti obvladam seveda pa mu tudi ostali člani dobro uigrane soldateske lepo sledijo. Kot inštrumentalni trojec se zasedba razživi tudi s skladbo Shake The Cake, na kateri odpre mladec vnovič bolj shematsko metalurške vode prej omenjenega ameriškega virtuoza, na What It Takes pa smo že bližje bluesu. V kontekst stopijo tudi precej novodobno obarvani vokali Mattea Bertinija, ki potegne na perfidni in okusni način na vokale Davida Coverdalea. Okusni AOR v pravem in dostojnem pomenu besede, obilo seksapila, predvsem pa te mastne in umazane, ravno prav zasanjane kitare, ki premorejo senzibilnost ter mero za ravnotežje med melosom, ostrino ter tonom, ki polni oboke in obstane v zraku kot tisto prepotrebno polnilo za katarzo.
When Everything's Right je balada, ki pade v kontekst kot krasni medmet, sladka večerna atmosfera senzualnosti, pridušenih luči in sladkorja pa ne izpade ceneno ter abotno. Luca doda pravo mero jazzy akordov, da na ostrejšem rockovskem kontrastu skladbe The Guest zdrvijo prek centrov za ugodje perfidno lahkotno zveneče solaže, izvrstna ritmična bravura pa vas lepo pripravi na nov ekskurz v sfere milozvočij s skladbo Nothing But This Song, na kateri velja iskreno in brez hlinjenja pohvaliti fantastične vokale Mattea, ki zmore blues in sentimentalnost baladnega rocka zliti v okusno moderno mešanico, ki premore globino, karakter ter fantastični občutek. Visoko oktanski Rough Blue je igra napetih živcev in matematično brezhibne ritmike, sinkop, krasne naravne organskosti izvrstne kitare in občutja, pri katerem nekateri ne razmišljajo tako hitro kot mladi Italijan menja konture in podobe v svojem domiselnosti polnem glasbenem itinerariju. The Good Life se ne odmika od recepture duše in pripovedi polne igre, ki sem se jo v devetdesetih prepojil pri Satrianiju. Princip je isti, Luca dodaja le svoje lastne nianse. Ain't No Love je strateško vnovič namenjen k dodajanju občutka benda in vokalov, vedno pa se pri tem ne morem otresti priokusa Whitesnakov, le da je v estetiki kvarteta tokrat več bluesa, manj šminke in je zadeva zatorej bolj voda na moj mlin ugodja. Fantazma akustične dokončnosti s sladko skladbo We Need Time pripelje ploščo k koncu s suspenzom decibelov, suspenzom vse grmeče hitrosti, s katero smo se nalezli in prevzeti priznali vdajo pred mlado zasedbo, ki premore vse, kar pri dobrem bendu iščem.
Tu so občutek, estetska dovršenost, tu je ostrina in katarzični občutek za tavanje v tišino. Izvrstni glasbeniki so naredili po teh premisah ploščo, ki nagovarja z melodijami, pripoveduje in vnaša v sivino aktualne scene, na kateri se solo izdelki s kitarami ne tržijo več tako kot pred dvema dekadama, a je vseeno lepo in pohvalno, da se lahko tudi v novem mileniju spiše poklon šestim strunam ter inštrumentu, ki prinaša barve, karakter in globino temu, kar lahko poimenujemo kakovosten, duše poln rock s pravimi primesmi. Bravo! Mi hočemo repete!
SANDI SADAR ŠOBA
OCENA: 9 / 10
Recenzija: Luca Princiotta Band– Rough Blue