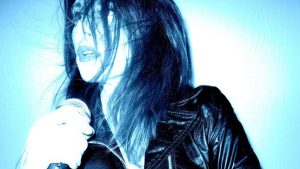 LEE AARON – Diamond Baby Blues
Metalville Records, 2018
Nisem človek s slabim spominom, a ob najavi, da je legenda rocka Lee Aaron izdala novo ploščo Diamond Baby Blues mi ime ni priklicalo v spomin nič, po pregledu faktografije pa je postalo jasno, da je Lee pevka, ki se bori z mlini na veter glasbene razpoznavnosti, slave in uspeha že od osemdesetih dalje, letos izdani plošček Diamond Baby Blues pa je že sedemnajsti izdelek sicer precej aktivne 56-letnice. Stara koka dobra supa? Pri tem malce zbode v oči, da je stilsko lebdela od jazza, popa, rocka k metalu, letos pa je »in« blues z dodatki. OK, pa poglejmo, če je dorasla temu!
Že po parih obratih sicer solidno spoliranega in zapečenega ploščka Diamond Baby Blues na katerem se ob bok lastnim stvaritvam četverec posveča tudi izročilu bolj plodnih ustvarjalcev preteklosti se razvije priokus, da je sicer na bolj trdo kalibrirani blues v maniri sedemdesetih ali poznih šestdesetih, a z več preproducirane moderne skladnosti in okrasja. Klasični rock in blues z dušo my ass! Pozabite na erupcijo kričeče narave, kot ste jo užili pri Led Zeppelinih in Deep Purple zvenijo lahko precej bolj medlo kot ste jih slišali v njihovi najslabši in najmanj razpoloženi različici! Česar ne prenesem je draženje s potencialom in znanjem, a se v bograč zvoka ne doda dovolj jajc in ostrejših začimb. Uvodni Diamond Baby je solidni AOR v najboljšem smislu besede, a bi Lee lahko dodala malce več umazanije, raskavosti in se malo manj trudila s čistim zvokom svojih sicer toplih in prvovrstnih glasilk parirati kitaram razpoloženega Seana Kellyja ter ritmašema Daveu Reimerju na basu ter Johnu Codyju za bobni. Sladko, preveč spolirano in rutinsko. In nato je tu že prvi šok za organizem s predelavo, ki me ni prevzela – Mistreated, ki je v izvirniku s plošče Burn pri Purplih trgala gate, Coverdale pa je iz sebe izganjal hudiča ter brez rezerv serviral dušo in glasilke na pladnju. Lee se tega loti precej bolj nežno, ženstveno, sicer tonsko korektno, a brez tistega notranjega plamena, zaradi katerega ste se pri Deep Purplih samodejno vneli. Standardni prijem s skladbo American High namesto rocka doda nekaj, kar bi pričakoval od Shanie Twain, precej na pop navlečeni drek pa poskuša zasedba popraviti s sicer korektno predelavo Koko Taylor in njenega legendarnega komada I'm A Woman. Ne kvarit tega z melodičnim okrasjem ter efekti! In prav to si Lee Aaron dopušča. Druga črna pika in menim, da so predelave, če se jih lotevaš, dobra referenčna točka za primerjavo udarnosti ter potence. Lee je super pevka, a ne premore karizme ter tudi Koko pade malce mimo, čeprav melodično in produkcijsko vse štima. Mercy se vrača v varnih konturah politično korektnega rocka z rezervo, recimo temu pogojno babjega rocka, čeprav so ženske kot Janis Joplin in še katera impresivna baba z jajci že davno tega dvignile parametre tega, kaj lahko ponudi ženska v rocku. Solidna balada Best Thing doda lep košček k sestavljanki zvoka, s skladbo Black Cat pa se poskuša Lee kosati z nekoč igrivo ter impresivno pop divo Janet Jackson. Strike three, a namesto tega, da kanadska legenda sede na klop raje zniža mojo skladbe Stevia Wrighta Hard Road, nam nalije v ušesa poskočne klišeje s skladbo In The Bedroom, doda v celoto malce več drsečih zdrsov in okusnega muziciranja s solidnim posvetilom alkoholnim pijačam Cut Way Back, ki bi bila, iskreno, lahko bolj umazana in nevarna, pa ni, nakar se zgodi še predelava standarda You're No Good (nekoč se je pod to dobro podpisalo ime Dee Dee Warwick, Lee Aaron pa je v svoji politični korektnosti na to le spomnila, izvirnika pa ni prekosila) za veliki finale pa se na piedestalu povprečnosti predela še My Babe sicer manj znanega blueserja Little Walterja.
Pa preidimo k anamnezam. Fakt je, da če se odločiš posneti album pretežno predelav, moraš dodati v celoto nekaj svojega in ne iz tega izvzemati tisto, kar je ključno – dušo. Lee Aaron je s svojim albumom dokazala, da navkljub kar častitljivim letom še zmore in zna peti, da ima ob sebi kakovostne in dobro izučene glasbenike, je plus, res pa je, da je seštevek vsega bolj ubog. Ni ostrine, ni ničesar posebnega, manjka duša, manjka mojo, manjka nevarnost, Diamond Baby Blues pa je le še en kičasti dodatek temu, da si vsakdo dandanes umišlja, da je blues enostaven glasbeni stil in da to zmore vsakdo. Nad slednjim bi se zamislil, saj je skrunjenje izročila kakovostnega izročila preteklosti žalitev za blues, za ljudi z okusom, obenem pa kliče k temu, da v dolgih decenijah preizkušanja tudi stare mačke in mački le najdejo tisto, kar jim najbolj leži, saj ni nihče dober za vse (razen Jimija Hendrixa, kakopak … ). White man can't jump in le redki belci in belke so dodali kaj impresivnega v itinerarij bluesa v najboljšem pomenu besede. Lee Aaron ni ena teh.
SANDI SADAR ŠOBA
OCENA: 5 / 10
Recenzija: Lee Aaron - Diamond Baby Blues