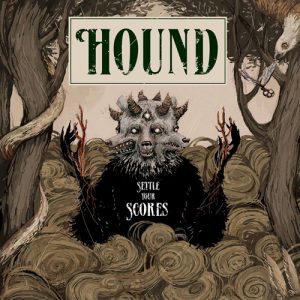 Hound – Settle Your Scores
(Metalville, 2018)
Ali imate občutek, da se stvari vračajo v ciklih, v glasbi pa so vnovič aktualni prijemi izpred štirih ali petih dekad? Mar smo prišli le do spoznanja, da je bilo vse, kar je bilo progresivnega in okusnega že odkritega in se mlačne vode enostavno ne splača odkrivati, lahko pa spremenimo le razmerja in naredimo stvari namensko bolj (včasih tudi manj) poslušljive? Nekaj takega in še kakšno vprašanje povrh poraja poslušanje prvega celovečerca mladega nemškega kvinteta Hound, plošče Settle Your Scores, ki stavi na retro zvok Hammondov, na organske kitare in na nekaj, kar bi bil rad križanec zadete igrivosti Roberta Planta ter ostrine Cedrica Brixlerja, a enostavno me ob vsem skupaj nekaj prekleto zbode v oči in ušesa. Predvsem tisti manko vizije ter natančnosti, ki pri pretirano izpostavljenih vokalih, ki streljajo konstantno tone »malo mimo« silijo k temu, da odmišljate vokale ter v trdi podlagi sicer solidne godbe najdete dovolj sočnega tkiva za potešitev in užitek. Pa pojdimo po vrsti.
Morda sem pretirano zahteven, a po tem, ko sem slišal, kaj zmorejo mladci iz Greta Van Fleet mi nekaj, kar tripa na nevarnost in neposrednost Purplov iz obdobja Mark II a (še pomnite ostrino in prodorni Gillanov glas na ploščah In Rock, Machine Head, Fireball in Who You Think We Are?), a enostavno je le malo kerlcev, ki bi znali odpreti vokalne registre in preživeti intenzivnost liričnega stapljanja, ko ti glasbeniki poleg preizkušajo decibelne meje organskega in sočnega preigravanja na razgretih in dobro uigranih ojačevalcih. Lampe, organski zvok, nič kozmetike in zgolj srce na dlani so super postulati za ustvarjanje dobre glasbe, je pa potrebno biti malce samokritičen in včasih posneti raje kak vokalni posnetek več kot manj, da se izognete šlamastiki in kocinjenju publike zavoljo napačnih razlogov.
Uvodni Not So Long Ago potegne najprej iz borše te lepe kitare Nanda Grujiča, na katere se lepo zlepijo orgle Jonasa Gehlena, bas Yannicka Aderba ter ravno prav napolnjeni in sočni bobni Johna Senfta, nato pa odpre svoja usta s svojim patetičnim falzetom Wanja Neite. Kot bi me spreletel čuden srh si iskreno želim, da gre zgolj za trenutek slabosti, saj se fant prekleto matra in po maniri Planta poskuša prehajati v visoke lege, ki pa ne zvenijo naravno, zdravo, še manj pa točno in v skladu s fantastično glasbeno spremljavo. Nekaj podobnega sem nekoč začutil ob At The Drive In ter Mars Volta, le da je Cedric jebeno natančen, poln mojota in tiste genialne vokalne pohote, zaradi katere padete na tla in si želite odpreti prsi ter srce darovati bogovom za vsaj hip ali dva daljše komade. Pri Hound to naredi fantastičen kolektiv izvrstnih glasbenikov, le pevca bi utišal ali poslal na ure petja – OK, častimo vsi, ki jih moti ta fouš princip ubiranja vseh napačnih tonov.
Nadaljevanje z Jimom Vanceom fura enako motiviran fantastični konglomerat privida Purplov s tipom, ki misli, da zna peti, rahlo melanholičen in zatežen itinerarij vokalov, ki niso kos visoki energični ravni benda in ubijajo tako mojo, moč, »power«, vse pa postane kar kmalu rahlo konfuzno, skoraj punkersko razjebano, čeprav dvomim, da so fantje želeli kreniti v to smer. Metalu bližji The Perilous Realm si tolmači metal tako, kot so to počeli v sedemdesetih, Wanja pa izpade na nek bizarni način celo učinkovit, še bolj pa pritegne pozornost ta fantastični konglomerat bluesa in funka, ki s komadom Cursed Place potegne na RHCP ali še bolj na Fair To Midland, le da je bil Darroh Sudderth genij pri vzdrževanju visoke energetske ravni benda, ki, žal, ne obratuje več. Thoughts & Prayers se vrne k zvokom Blackmoreove soldateske, le da Wanja čuti bolj podtone Planta in ne Gillana, a eno je čutiti, drugo pa doseči. Jebiga, preveliki čevlji za polnjenje.
Not At All je fantastičen izliv moči in potence, kjer si dovolijo kitare in orgle briljirati, izvrstna ritmična sekcija in bas pa popravijo grenki priokus melanholije, ki jo, verjamem nenamenoma, dodaja prvak za mikrofonom. Thin Lizzy ter Purpli na powerju se izlijejo iz zvočnikov z ostrimi kontrasti fantastične skladbe The Poacher, na fantastični, progresivno igrivi in ravno prav odpeljani zadetosti skladbe The Secret Commonwealth pa razkrijejo Hound enega svojih najlepših biserov. Fantastični blues, ravno prav prosojne in seksi orgle, nato pa ta fantastična solo kitara, ki vas odpelje v strastne sfere, nato pa tisti, saj veste, iskrivi duel Lorda in Balckmorea. Grujic ga krasno prži, Gehlen pa je fantastična protiutež v bendu s temi svojimi seksi Hammondi. Če bi le Wanja zdržal v tišini, a to so pobožne želje tistega kritičnega in neusmiljenega jaza, ki ne prenese polovičarstva, šlamparije in brezjajčnih vokalistov, ki mislijo, da zmorejo vse. Fak! Z brutalno neposrednim udarom skladbe Grit ste na Fireballu in Machine Headu, Hound pa zatulijo kot krdelo steklih psov, le da je ta najbolj slišani pes precej naglušen in prehlajen. OK, spet šimfanje, a v imenu izboljšav. Fantastični Flesh & Bone vnovič poseže po bolj stihijskih prijemih senzualnega kitarskega suspenza, da ste z ostrim udarom skladbe Settle Your Scores vnovič prebujeni in na poti do pogojnega samovžiga, po finalnem brušenju ušes s fantastično začinjeno Awful Fellow z napačno glavno sestavino pa pride čas obračuna in pobožnih želja.
Bend Hound je fantastičen in prekleto besen sem, da so si dovolili kvariti celoto s temi brezveznimi in zgrešenimi vokali, ki bi jih zakonsko prepovedal. Nalijmo si čistega vina – ni vsak kos Robertu Plantu in Ianu Gillanu in ni vse, kar pojete na način, kot bi vas skopili, kul in v stilu z retro glasbo. Damn! Settle Your Scores bi bil prav zlahka ena boljših plošč letošnjega leta, če mi ne bi pokvarili užitka ti zmahani vokali na falzetu, kot da pevec ni slišal svoje lege, nihče pa ga ni hotel popravljati, saj jim je bilo mar le za svojo briljanco. Morda stvari funkcionirajo bolje v živo, na plošči pa je to ena poglavitnih napak, ki si jo mlad in perspektiven bend enostavno ne bi smel dovoliti. V vsakem primeru lahko zelo pohvalim in si iskreno želim še krasne godbe v maniri sedemdesetih, več pa bo potrebno investirati v vokale ali pa morda razmišljati o menjavi obstoječega šibkega člena zasedbe s čim bolj potentnim, točnim in bolj duše polnim.
SANDI SADAR ŠOBA
OCENA: 7 / 10