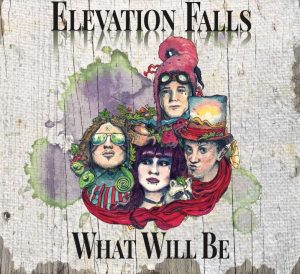 Elevation Falls  – What Will Be
samozaložba, 2018
Verjamem, da lahko prostor definira umetnost, nekatere nevralgične točke našega planeta pa so kreirala, porodila in izstrelila v stratosfero epskega več utrinkov genialnega kot ostali del precej polnega, a ne vedno idejno zapolnjenega neba prometejskih umetnosti, pomemben del katerih je bila in bo vedno tudi glasba. Z ozirom na to nosim Irko na prav posebnem mestu v svojem srcu. Thin Lizzy, Rory Gallagher , U2, The Cranberries so le nekatera imena, ki bi jih lahko samodejno izpostavil, zato sem se soočanja z novo ploščo meni doslej neznane zasedbe Elevation Falls loteval tako z veliko mero visoko zastavljenih pričakovanj kot tudi z bolj ostro prišpičenim svinčnikom kritike. Leta 2012 porojena zasedba stavi na predikate klasične rock ostrine, na bluesovsko globino, soul, obenem pa že v štartu z napovedjo, z ovitkom, z debelim svežnjem estetsko izpeljanega PR-ja presega običajno obskuren vakuum bendov, ki se le poredko dotaknejo moje duše še pred posluhom, Elevation Falls pa so me že z drugačnim pristopom k prodaji ideje, iluzije in paketa pred posluhom glasbe kar prehitro dobili na svojo stran.
Ker sem vseeno rad objektiven kolikor se objektivnosti lahko v glasbenem novinarstvu nudi, sem se posedel pred predvajalnik ter se predal multiplim obratom in posluhom plošče What Will Be in že v samem začetku lahko rečem, da je bil to povod za akt kocinjenja na tisti pravi potenci. Na plošči četverec s tedaj še gostujočim bobnarjem je zvokovno postavljen v tisti zlati svet zvokov Garyja Moorea, Thin Lizzyjev, dodaja debele nanose soula, pod rustikalnim pridihom osemdesetih ali poznih sedemdesetih pa se v vodih kreative znajde pridih tudi hard rocka, metala in staremu izročilu analogne produkcije zavezana linija moderno predelanega rocka po meri novega milenija. Uvodni start s skladbo Vultures spomni na občutje, ki ga je v meni prebudil in predramil pred časom izvrstni Toseland, a namesto dedca za mikrofonom tokrat vokalno dominira izvrstna in vokalno ravno prav umazana Hazel Jade, ki je gonilna sila benda. Na trenutke z dometom Anouk, a z nastavki, ki namesto po novem mileeniju bolj speta z zvokom osemdesetih in sedemdesetih je več kot le močna samozavestna ženska, ki si je upala za mikrofon. Dejansko se strinjam z njeno osebno oceno in je tu v nastavkih in moči glasu nemudoma prepoznati profesionalko v izdelavi, ko pa se s prvim rifom v celoto pridružita masivni, topli in prav okusno nastavljeni kitari Chrisa Younga in Darragha Shieldsa je jasno, da polovičarstvo v celoti zasedbe Elevation Falls nima prostora. Mastne distorzije, ki so po meri tako prej omenjenega Garyja Moorea, obenem pa se pod debelimi nanosi osemdesetih sliši koketiranje z igrivostjo solaž Slasha, nekje v zadnjem predelu možganov bi, prisegam, lahko izbrskal Roryja Gallagherja z njemu lastnimi barvami, fragmente pa dominantno lepi skupaj ritem sekcija, del katere je Gabriel Grecco, ustanovni član in ritmični vunderkind, ki se enako sproščeno počuti na basu kot tudi za bobni, namesto sedaj stalnega člana Alexa Sancheza de Ordune na bateriji pa so bile na plošči bobnarske zadolžitve zaupane plačani sili Koreya Thomasa. Nikakor ne slaba odločitev.
Po precej eksplozivnem začetku se celota nadaljuje z najprej zasanjanim komadom Zombie, ki pa svoj patos epske širine kaj kmalu razpre v splet lirike in melodike, ki sladko oponira pasivnosti sedanjosti, v kateri manjka sanj, vizije, iskrenih organskih želja, vse pa se kompenzira z brezvezjem tehnokratske priklopljenosti na virtualno, na izkrivljeno, na umetno. Dublinski posebneži Elevation Falls razpirajo svoje nadobudne registre v strateško pozicioniranih štirih minutah tako, da se bodo nedvomno vrteli po radijskih postajah – če ne s temperamentnimi kanonadami klasičnega rocka (denimo s skladbAMI Stand Down, Armies Rising, Souls Burning) pa z baladami, v katerih so priučeni tako patetičnim godalnim partom, klavirju in sladki boli (dokaz je že sladka patetika skladbe Dream Of Me), mene pa dobijo na limanice tistega ravno prav umazanega starikavega bluesa, ki so mu Irci, kakopak lepo dorasli (Never Be Me je bolj ostra predigra, ko pa se v celoto z orglicami skladbe Cheating Woman vpletejo tisti bolj počasni bluesovski podtoni sentimentalne razočaranosti starega dobrega Slow Handa Claptona ali, še bolje, Roryja Gallagherja, ki je močnejša od eliksirja decibelov, se srce stali in prosi za ponovitev, reprizo, za še). Fantastična večplastnost je strateško zastavljena tudi z na pravih mestih zakoličenim redosledom skladb, zaradi česar nič nikjer ne štrli, ne moti, ne sili k predčasni prekinitvi glasbene liturgije. Plošča premore torej tako patetiko, umazanijo, nevarnost, destruktivno eksplozivno slo kot tudi strastno željo po izgorevanju v absolutnem topilu popolnih čustev in, vsaj tega nisem čutil, ne servira servilnosti, rezerv ter bulšiterske zlaganosti.
Navlečen na ta lepi stampedo dišeč po starem in dobrem rocku z jajci, vsebino in produkcijsko širino ter toplino priznavam, da sem bil tokrat nagrajen z enajstimi briljanti, kjer deluje vsak zase in dokazuje, da so Elevation Falls bend, ki premore več kot le potencial in več kot le obet velikosti. Res je, da jih nisem uspel videti še v živo, sem pa prepričan, da so kozmetični popravki ter garderoba na odru sekundarnega pomena, če poslušate glasbo in je dejansko najpomembnejša dobrina ta umazani, sočni, prezentni zvok, na katerega se je najprej potrebno navleči, da bi sledili teatru in dramaturgiji giba na odru. What Will Be je plošča s pravim naslovom, saj se po tem, ko preliješ v izdelek vse tisto lepo in močno željo, se potrudiš in narediš vse najbolje kot znaš, vse prepuščeno tisti kruti igri usode ter testu časa, kjer ni vse odvisno od želje, sle in znanja, temveč igra pomembno vlogo tudi sreča. In na tem mestu jim, vraževerno, želim obilo detelje, zlatih novcev, mavric ter irskih škratov v zaledju. V vsakem primeru privoščim mladcem in mladenki obilo priložnosti, s katerimi bodo lahko svojo posebno zmes seksapila, glasbene širine ter popolnih harmonij ponesli na čim več odrov ter delili in sejali seme lepega talenta še kam dlje od Irske in Anglije, saj si to, iskreno, zaslužijo.
SANDI SADAR ŠOBA
Recenzija: Elevation Falls – What Will Be