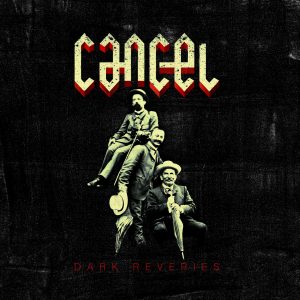 Cancel  – Dark Reveries
samozaložba, 2018
V časih, ko je svet prepojen z vsesplošno apatijo, namesto upora, revolta in revolucije pa se mase raje apatično zatopijo v ležerno stanje indiference, prav paše, da se sistemski ustroj benigne neefektivnosti pretrese z odmerki energičnosti, jeze, s kriki nestrinjanja. Katera glasba bi bila temu bolj kos, če ne prvinski in neprečiščeni HC, ki ima v svoji umazani podstati znoja, krvi, nevarnosti testosterona, mišic in neprikritih obetov obračunljivosti obilo zdravilnega, dobrega in več kot le abotno preprostega. Kot naročeno in ravno v pravem času servirano jelo je tokrat na pladenj seciranja in kritične vivisekcije prispel švicarski kvintet Cancel, ki je po dolgih sedmih letih po prvencu Circle letos le povil drugorojenko, ploščo Dark Reveries. In slednja, bratje in sestre po glasbenem prepričanju, je kričeča, jezna in ravno prav starodušna, da ni potrebno izumljati novih merskih enot ter se zatekati visoki znanosti.
Ne, nisem mislil s tem nič slabega, a Dark Reveries je plošča, ki je zvesta izročilu, estetiki in sporočilnosti tistega dobrega starega HC-ja, ki smo se ga navlekli s Sick Of It All, Hatebreedi, Cancel pa so imeli v sistem vmešano še kaj bolj modernega in uničevalnega, kot so The Black Dahlia Murder ali pa še bolj The Dillinger Escape Plan. Fakt je, da je plošča en resnično zajeban deseterec komadov, ki gredo na vse ali nič z vsakim neusmiljenim udarom po opnah bobnov, ki jih If Buchner uničuje kot za stavo. Nato so tu umazani masivni precizni bas Daria Anderhuba, strupene kitare Flurina Steinerja ter Felixa Mechelkeja, pika na i pa je ta kričeči, šokantno prodorni in neusmiljeni vokal Rema Stalderja. Od začetka s skladbo Mind Burial ni rezerv in zatekanja v varnost mašil. Masiv efektivnih in dobro napolnjenih kitarskih rifov, strateški HC breakdowni, prelomi na pravih mestih, predvsem pa ta igra na vse ali nič, kjer se Cancel konfrontirajo s poslušalcem, ga vzamejo za talca in z visoko energetskim ostrim zvokom brusijo in pridigajo na polno zoper impotenco mišljenja. Aktiviraj možgane in preidi v ofenzivo, človek! In z zapadom v Hysterio je stanje le podaljšano. Tesnoba, decibeli in želja po izgorevanju, po požigu, po revoltu in uničenju vseh razlogov, zaradi katerih smo pasivni in izčrpani od brezzračja sveta. Golden Rats podkrepljuje paradigmo besa z izjemno notranjo dinamiko, brutalnostjo, ki v marsičem spolzi v disonantno stanje nalezljive ritmike, s katero smo se v devetdesetih nalezli prodorne jeze Slipknotov. Še pomnite, tovariši?
Čeprav so Cancel še vedno pankursko naravnani in definitivno bližje narativom Dillingerjev kot maskiranim Knotom. Tudi s skladbo Death Cab se v linijo decibelov, pridigarskega nu-metal-HC občutja ne vnaša kaj pretirano revolucionarno novega, se pa Poor Man's Sermon zavezuje bolj počasnim konturam. Remo dejansko zapoje in s počasnim šepetajočim in božajočim baritonom preide iz HC pittbulla v vlogo zloveščega doom naratorja. Pošastni minimalizem je le predigra, s katero gradijo Cancel na suspenzu, s katerim jemljejo fantje nov zalet za naskok. In ta se zgodi v manj kot dvominutnem izpadu, ataki komada Chased Feelings. HC za vse solde, po katerem se Freedom On Cross zgodi kot prisluh iz nedrja garaže, kot medmet iz slabih posnetkov s placa, kjer pa je v šumu več dobrega in okusnega kot v kristalno jasnih in brezveznih polivkah večine danes delujočih samooklicanih ekstremistov brez idej. You're Everything I'm Not se odloči za zavestno opozicijo ter ločitev od črede ovac in spet slišim nekje v ozadju Slipknote, tokrat iz dobe plošče Iowa. Umazane distorzije, sistematično draženje in podžiganje strasti, po katerih se z dramatičnim suspenzom ter misticizmom basa in bobnov ter izza kulis postavljenih kitar z uvodom skladbe Human Machinery, ki je uvod, zgodi spust v finale z naslovno skladbo Dark Reveries. Verjetno najbolj domišljena in napolnjena skladba plošče strne vse prej povedano v okusni paket, kjer ne manjka močnega podtona, Cancel pa se v slogu in pravi zvokovni maniri odločijo odtisniti finalni pečat izvrstno zasnovani plošči.
Morda je plošča prispela na moj predvajalnik v tistem pravem, ravno pravšnjem času, ko je poleg subtilne nežnosti in suspenza moj mentalni in telesni ustroj nujno potreboval odmerek stresa, brutalnosti, tiste prave sonične tepežke zaradi katere se bo lahko vse skupaj resetiralo ter postavilo na svoje pravo mesto. Album Dark Reveries je dokument časa in kot tak ne izseva optimizma in galantne lepote, ki jo v tem zlaganem svetu le poredko vidimo in občutimo. Plošča je več kot dobra, Švicarji pa znajo pretresti s pravimi prijemi, tako da lahko rečem le kapo dol! Fantastična plošča, izvrstna produkcija, dobra lirika in še boljše sporočilo, ki je namenjeno dramitvi, vstaji, namesto pasive pa k akciji in reakciji, Cancel pa so lahko dober soundtrack, s katerim se odločimo požgati templje nezdravega zdrsa v globalni fašizem, ki nosi ime demokratičnosti.
SANDI SADAR ŠOBA
Recenzija: Cancel – Dark Reveries