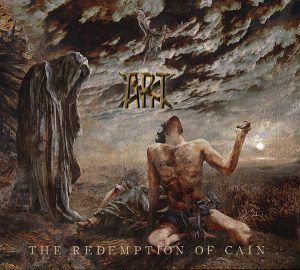 Art  X – The Redemption Of Cain
Metalville, 2016
Določene plošče potrebujejo dosti časa, da se znajdejo na vrsti za sistematični pregled z moje strani, pri simfoničnem metalu pa je še tako dolga čakalna vrsta prekratka, da se predam svetoboljnemu izlivu patetike in melodramatike, ki jo zmore na istem kvadrantu vesoljnosti stlačiti skupaj samo ta zvrst glasbe. OK, pristranskost in okus na stran, z jasno in lucidno željo po spoznanju, doumetju in objektivnosti sem se lotil solo projekta Gabriela Bernasconija, prvenca zasedbe Art X z naslovom The Redemption Of Caine. Če ste stavili na nekaj takega, kot so Fleshgod Apocalypse, Rhapsody Of Fire ali Symphony X, ste na pravi poti, da boste tokrat deležni potešitve, če ne – too bad!
Ne oporekam dejstvu, da so konceptualno zastavljeni albumi lahko podobno kot dobre knjige – polni vsebine, modrosti, progresivnosti, ko pa se po bratomoru na vrsti za zagovor znajde Kajn in se po biblični recepturi začne boj za obstanek s simfoničnimi podtoni, je jasno, da bo boj na požiralniku izjemno intenziven in močen. Patetična poetika, poskus melodične upesnitve svetopisemske zgodbe o tem, kako je prvorojeni Kajn nase z umorom brata Abela priklical nase božji srd, dramaturško zavlačevanje, dolgi uvodi in predvidljiva epskost so le del obeta, ki se po skladbi Memoriae izkažejo za upravičene. Knowledge & Death kot prvi spev žalostinke nagovarja prvoosebno, kaj kmalu pa se izkaže, da je za salvami kitar poleg Gabriela v vlogi Caina prostora dovolj tudi za sladko Evo v podobi Seline Ilussich, ki ji pritegne maskulativni Adam v podobi nekdanjega Maidenovca Blazea Baleya. OK, tetralika je operno pretirana, je pa res, da so kitare Luce Princiotte, sicer člana spremljevalne zasedbe pevke Doro, bas Stevea DiGiorgia (da, tistega, ki je služboval pri Death in Testamentih) ter precej benigno in žanru primerno bobnanje Giusepeja Orlanda lahko dopolnjene le s tistimi nepogrešljivimi dotiki klaviaturskih tipk, zaradi katerih je patetika popolna. To zakrivi Oliver Palotai, sicer bolje znan iz zasedbe Kamelot. In to pretiravanje z diskurzom pridigarstva ter sladko – trpkega preizkušanja koncentracije traja progresivnih sedem minut, a učinka vznesenosti, žal, ne začutim.
The First Sacrifice poskuša dvigovati plafon z Angrinim Andrejem Matosom, ki se tokrat predstavi kot del angelskega zbora, kot božji glasnik, ki po godalih in operetnem uvodu napelje naracijo tako, da se s Kajnom sooči po naroku Adama tudi Abel, sicer Roberto Tiranti, član zasedbe Labyrinth. Zgodba o Kajnovem sovraštvu, jezi, ljubosumju in zavisti, kateri izmed obeh si zasluži bolj naklonjenost očeta Adama ter Boga v višavah je preveč moralizatorska in poskus dramaturške umestitve je pretiran, ekscesiven, preveč linearen, dvodimenzionalen, kjer so edina tolažba za ušesa predvidljive pasaže kitarskih solaž, a je v vsem skupaj preveč prostora za verbalno izživljanje nad poslušalstvom z vso navlako domala dramsko zapisanih dialogov na planjavah iz začetkov Biblične prazgodovine. Fuj! Tudi druga daritev s Second Sacrifice ne prinaša nič več odgovorov na vprašanje, ali bo kdaj bolje. Zgodi se bratomor in s triptihom skladbe Crime, Pain & Penance se pravi žur šele začne. Ali pač. Še vedno je tu ta godalna navlaka, suspenzu dramatičnega pa ne sledi nič več šusa kot poprej. Kot bi poslušal muzikal Hair, le da so tokrat glavni akterji svetopisemske karikirane figure, ki jim želi verni Italijan na vsak način vdihniti življenje. Največ vsebine, mesa in lepote vsaj za moja ušesa prinaša prihod peklenskega zbora, kjer Kajna v usodni objem vabita prva demonka Lilith, ki jo v meso pretvarja pevka zasedba Avanthasia in Epica Amanda Sommerville, katero v pravem hipu podkrepi Lucifer Tim Aymar, sicer slišan in čuten s Schuldinerjevih plošč zasedb Control Denied ter iz zasedbe Pharaoh. Več je gromovništva, orgle postanejo malce bolj ostre, a premalo je tu Hammonda in moči, prodornosti. Sicer bolj agresivni podtoni se kaj kmalu posedejo s tem, ko Gabiel oziroma Kajn sede za mizo z Luciferjem in se saga o trpljenju, krivdi vleče kot kurja čreva. Najboljši del slišanega je prav Lucifer, ki v splet pretirano osladne lepote prinaša podton nevarnosti, a ob tem svetopisemskem sranju se tudi Luciferjevi kremplji krhajo ter barvajo z nepotrebnimi nanosi bleščic in melodičnih mašil, ki izčrpavajo, v ušesa pa ne prinašajo nič novega. Razen tiste lepe solo kitare, ki bi jo človek poslušal brez teh pretiranih vokalnih spevov.
In ko mislite, da ne more biti slabše se po frulicah v vse skupaj doda še A Wife's Story, kjer se Kajn v dialogu z ženo, ki jo uteleša Luccia Emmanueli, pevka zasedbe Trewa, izdatneje zasmili sam sebi. Ojej, kakšen odmerek cukra! Po tem potrebujete detoksikacijo, na večno trpljenje in nesmrtnost obsojenega Kajna pa bi radi kar sami pokončali z dvema, tremi krepkimi udarci z lopato po glavi, nakar bi ga pokopali pod fikus, a pozor – ne prehitevajte dogodkov! Potrebno je povedati tudi, kdo straži in varuje vrata v Raj in The Keeper z Zacharyjem Stevensom iz Savatage daje obet, da bo trpljenja kmalu, končno, konec. Bog baje odpušča, mar ne, a po desetih minutah sranja z Eden, Finally ne zmorem odpuščati jaz osebno.
Precej brezvezno je iskati v celoti kaj dobrega in okusnega, če vam simfonična patetika ni blizu in jo ne marate, v kolikor pa je konceptualno megalomanstvo voda na vaš mlin boste z zajetnim paketom lirične epskosti albuma The Redemption Of Cain najverjetneje potolaženi, nasičeni in boste lažje zaspali z nasmehom sreče na ustnicah. Sam se s to naporno dozo prav sadistične pobožnosti in dramatične vznesenosti nikakor ne morem sprijazniti. V produkcijski celoti je preveč sladil in mašil, premalo dinamike in premalo tistega sočnega mesa, zaradi katerega se poslušanju takšnih izdelkov raje prepuščam, če so pod izdelkom podpisani Dream Theatre ali Symphomy X in še to ne sleherni dan. Vsemu navkljub in z ozirom zgolj na specifične tehnične zahteve simfoničnega podžanra bi rekel le, da je potrebno Gabrielu za pogum, s katerim se je zagrizel v precej obilen zalogaj čestitati za pogum, vsemu navkljub pa srčno in iskreno upam, da bo prvencu sledila tehnična nadgradnja z več glasbe, manj opere ter več glasbe, ki ne bazira na patetiki, predvidljivem in na formulah, ki so namenjene zgolj ozkemu krogu simfoniki zapriseženih posebnežev. Prostora za izboljšave je, kakopak, dovolj.
SANDI SADAR ŠOBA
Recenzija: Art X – The Redemption Of Cain