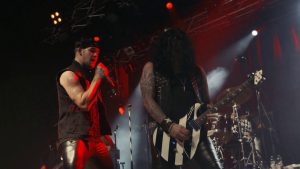 Italijanska založba Frontiers Music napoveduje izid novega koncertnega albuma zasedbe Quiet Riot z naslovom One Night In Milan.
Album so Quiet Rio posneli aprila lani na festivalu Frontiers Rock in bo izšel 25. januarja z naslednjimi skladbami:
1. Run For Cover
2. Slick Black Cadillac
3. Mama Weer All Crazee Now
4. Whatever It Takes
5. Terrified
6. Love's A Bitch
7. Condition Critical
8. Thunderbird
9. Party All Night
10. Freak Flag
11. I Can't Get Enough
12. Wild & The Young
13. Let's Get Crazy
14. Cum On Feel The Noize
15. Metal Health (Bang Your Head)
Quiet Riot so objavili koncertni videospot skladbe Condition Critical.
v izvirni zasedbi
V današnji zasedbi hard rock veteranov se od izvirnih članov nahaja le še ustanovni član skupne ter bobnar Frankie Banali. Kvartet dopolnjujejo še kitarist Alex Grossi (od leta 2004), James Durbin ter basist Chuck Wright, ki je od leta 1982 sicer večkrat zapustil skupino, a se ji nato znova priključil.