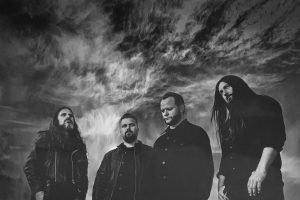 Photo © Torbjørn Schei
Kitarist Ole Walaunet in bobnar Mads Lilletvedt sta nova člana skupine Sahg. Band trenutno pripravlja nov album, ki bo izšel prihodnje leto.
Sahg announces a change in line-up, and welcome guitarist Ole Walaunet and drummer Mads Lilletvedt to the band.  Furthermore we're happy to tell you that the wait will soon be over: There will be a new Sahg album out in the spring of 2016.
Ole Walaunet is an experienced performer and is held in high regard in the Bergen metal scene, with past and ongoing involvement in bands like Grimfist, Deride, The Batallion, and God Seed. He is highly acclaimed for his skills as a guitar player and composer. Ole joined Sahg as a session guitarist on their European tours with Clutch and Sólstafir in 2014/2015, and is now a permanent member of the band.
"The last two years Ole shared more time on stage with us than our original guitarist, so this was a natural step to take when Thomas Tofthagen decided to leave Sahg, with no hard feelings from either side. We are thrilled to finally include Ole as a permanent member."
– Olav Iversen, Sahg
Mads Lilletvedt has a background from bands like Hellish Outcast, Byfrost and Solstorm. The previous drummer, Thomas Lønnheim, left Sahg due to personal reasons, and there is no bad blood between him and the band.
"Mads' expressive style of drumming brings a new edge to Sahg's sound, and we are very excited to have him on board."
– Olav Iversen
With the new line-up, Sahg is currently working on some exciting material for a new album, due out on Indie Recorings in the spring of 2016. The follow up to 2013's critically acclaimed Delusions Of Grandeur, will continue in the vein of its predecessor, with atmospheric Classic Metal, tinged with Prog and cosmic, doomy Psychedelia.
Catch Sahg's very first performance with the new line-up:
Thu Oct 1st, Trondheim Metal Fest, Trondheim, Norway