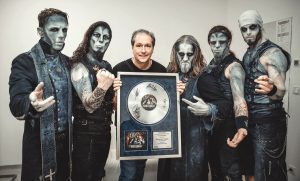 Nemški power metalci Powerwolf  so podaljšali pogodbo z avstrijsko založbo Napalm Records.
Glavni menedžer založbe Napalm Records  Markus Riedler je povedal, da so Napalm Records že veliko dosegli skupaj z zasedbo Powerwolf in da je izvrstno to, da lahko obe strani nadaljujeta dalje v začrtani poti. Riedler dodaja: "Powerwolf imajo vse pogoje, da rastejo dalje in da bodo nekoč sprejeti v dvorano slavnih metala!"
Zadnji sedmi album zasedbe Powerwolf The Sacrament Of Sin  je izšel v juliju 2018 pri založbi Napalm Records.