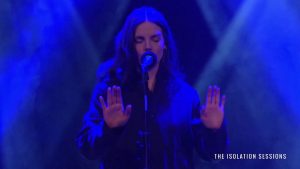 Gold predstavljajo videospot za skladbo Imposter. Skladba bo del prihajajoče kompilacije The Archive Sessions, ki bo na voljo preko njihovega Bandcampa. Gre za še neobjavljeno skladbo, ki je nastala med snemanjem zadnjega albuma Why Aren't You Laughing?. Tega so posneli skupaj s producentom Jaimejem Gomezom Arellanom (Paradise Lost, Cathedral, Primordial, Hexvessel, Orange Goblin) poleti 2018.
V petek bo skupina pričela tudi s predprodajo kolekcije z naslovom Recession, ki bo vsebovala The Isolation Sessions, The Bedroom Sessions in The Archive Sessions, izšla pa naj bi kot trojni vinil v omejeni nakladi.
Milena in Thomas iz zasedbe GOLD sta posnela štiri nove skladbe ter priredbo Dylanove skladbe Blowin' In The Wind. Digitalni izdelek,  imenovan The Bedroom Sessions, lahko kupite za  3,90 na tej povezavi.