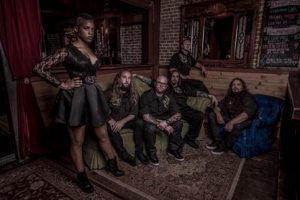 Progrock/metal zasedba OCEANS OF SLUMBER je izdala spot za komad "Winter", ki se nahaja na prvencu skupine in izde marca naslednje leto via Century Media.
Ovitek za debi album zasedbe OCEANS OF SLUMBER je izdelal Costin Chioreanu @ Twilight 13 Media (At The Gates, Katatonia, Grave, Arcturus ..).
"The time has come and we're more than excited to release this first glimpse into our new record Winter. We wanted to reveal ourselves a bit more and try to capture the energy of the band in UltraHD. We've put every bit of our heart and souls into this record and can't wait to start this journey with everyone." states the band on the forthcoming album.  
OCEANS OF SLUMBER is:
Cammie Gilbert – Vocals
Anthony Contreras – Guitar
Sean Gary – Guitar
Keegan Kelly – Bass
Uaeb Yelsaeb – Synthesizers
Dobber Beverly – Drums