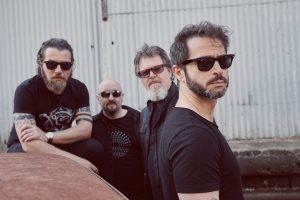 O.R.k. so objavili videospot za skladbo Black Blooms (feat. Serj Tankian).
Zasedba O.R.k. , ki jo sestavljajo člani iz zasedb King Crimson, Porcupine Tree in System of a Down, je posnela album z naslovom Ramagehead.
Ta bo vseboval naslednje skladbe:
Kneel to Nothing
Signals Erased
Beyond Sight
Black Blooms (feat. Serj Tankian)
Time Corroded
Down the Road
Some Other Rainbow Part 1
Strangled Words
Some Other Rainbow
Skupino sestavljajo :
Lorenzo Esposito Fornasari a.k.a LEF (vokal)
Pat Mastelotto (King Crimson -bobni)
Colin Edwin (Porcupine tree – bas)
Carmelo Pipitone (kitara)
Skupina bo album objavila 22. februarja. Na turnejo pa se podaja skupaj z zasedbo Pineapple Thief.
24.02.19 CH-Pratteln – Z7
26.02.19 Stuttgart – LKA Longhorn
27.02.19 Frankfurt – Batschkapp
02.03.19 Hamburg – Große Freiheit 36
08.03.19 Iserhagen/Hannover – Blues Garage (brez Pineapple Thief)
10.03.19 Köln – Yard Club (brez Pineapple Thief)
12.03.19 München – Backstage (brez Pineapple Thief)