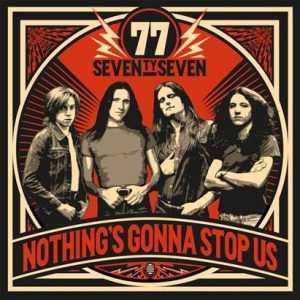 Spanski hard rockerji  '77 predstvljajo prvi komad iz prihajajocega albuma (30. oktobra via Century Media) "Nothing's Gonna Stop Us"
'77 comments:
"It's Alright" is a straight forward '77 song based on a heavy, rocking riff and perfectly represents us and our sound. The music somewhat disguises that its lyrics are actually dealing with a lot of anger and frustration and the song can be understood as our personal call to action: Don't just go the easy way, don't just say "It's Alright" and remain ignorant to what is happening around you.
"Nothing's Gonna Stop Us" was produced by Jaime Gomez Arellano who has worked with diverse artists such as Paradise Lost, Ghost, Ulver or Cathedral. You think this might sound too heavy for fans of real rock 'n' roll? Then check out this first track and you'll be turned into a real believer that this was a match made in rock 'n' roll heaven!
Artistically and aesthetically deeply rooted in the 70's, the Valeta brothers Armand Valeta (vocals and rhythm guitar) and LG Valeta (lead guitar) founded '77 as a direct reflection of the concept of the era they love. Over the past years '77 didn't just make a name for themselves with their studio recordings, but particularly with their high energy live shows that secured them countless European tours with such diverse bands as Bullet or Audrey Horne. With several shows already lined-up around release, including dates as support of the mighty Michael Schenker, rest assured if you want rock…'77 got it!