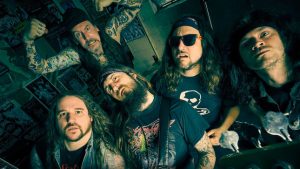 Municipal Waste predstavljajo novi single Amateur Sketch. Ta bo del prihajajočega albuma z naslovom Slime And Punishment, ki bo izšel 23. junija pri založbi Nuclear Blast Records.
Slime And Punishment je prvi album benda, katerega je v studiu Blaze of Torment  (Richmond, VA) posnel basist Phil "Landphil" Hall. Mix in mastering je v kalifornijskem hollywoodu  opravil legendarni Bill Metoyer (Slayer, W.A.S.P., Dark Angel). Ovitek za šesti album je izdelal  Andrei Bouzikov.
Skladbe albuma so naslednje:
Breathe Grease, Enjoy The Night, Dingy Situations, Shrednecks, Poison The Preacher, Bourbon Discipline, Parole Violators, Slime And Punishment, Amateur Sketch, Excessive Celebration, Low Tolerance, Under The Waste, Command, Death Proof, in Think Fast.