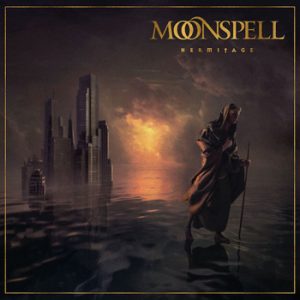 Moonspell so danes pri Napalm Records objavili studijski album z naslovom Hermitage. Tokrat so portugalski metalci objavili videospot za skladbo The Hermit Saint.
Na novem albumu se nahaja  deset novih skladb, med njimi pa kar dva instrumentala.
01. The Greater Good
02. Common Prayers
03. All or Nothing
04. Hermitage
05. Entitlement
06. Solitarian
07. The Hermit Saints
08. Apophthegmata
09. Without Rule
10. City Quitter (Outro)
bonus:
11. Darkness in Paradise (Candlemass priredba)
12. The Great Leap Forward (7″-Vinyl – Deluxe Box)
Novi album skupine je posnel in produciral Jaime Gomez Arellano, ki je med drugim sodeloval tudi s Paradise Lost, Ulver in Ghost. Moonspell so se lani razšli z izvirnim bobnarjem Miguelom Mikeom Gasparjem. Zamenjal ga je Hugo Ribeiro.