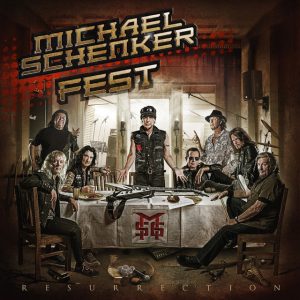 Michael Schenker Fest so objavili besedilni videospot za skladbo Heart And Soul, ki se nahaja na prihajajočem albumu z naslovom Resurrection. Na albumu, ki izide letos  2. marca,  so sodelovali: Gary Barden, Graham Bonnet in  Robin McAuley ter  Doogie White (Michael Schenker – Temple of Rock), Steve Mann (k./klav.), Ted McKenna (b.), Chris Glen (bas), Kirk Hammett (Metallica), Wayne Findlay (MSG)  in  Michael Voss-Schoen (Mad Max).
Skladbe albuma so naslednje:
01. Heart And Soul
02. Warrior
03. Take Me To The Church
04. Night Moods
05. The Girl With The Stars In Her Eyes
06. Everest
07. Messin' Around
08. Time Knows When It´s Time
09. Anchors Away
10. Salvation
11. Livin' A Life Worth Livin'
12. The Last Supper
Micheal Schenker je eden najpomembnejših rock kitaristov v zgodovini glasbe (na tej povezavi lahko prisluhnete komentarju Kirka Hammeta iz zasedbe Metallica). Michael občinstvo navdušuje že od 70-ih let dalje, njegovo delo pa je postalo nesmrtno s  klasikami kot so  Lovedrive, Coast to Coast in Holiday nemcev The Scorpions, kakor tudi hiti Doctor Doctor in Rock Bottom britancev UFO. Njegovo igranje je nedvomno navdahnilo nekaj generacij kitaristov.
Leta 1979  je ustanovil skupino Michael Schenker Group (MSG), ki je izdala uspešne albume kot so Assault Attack, Built to Destroy, One Night At Budokan in druge. V skupini so se skozi leta zvrstili številni izvrstni glasbeniki –  Billy Sheehan (Mr.Big), Don Airey (Deep Purple), Cozy Powell (ex Gary Moore), Chris Slade (AC/DC), Pete Way (UFO) in Neil Murray (ex Whitesnake) ter vokalisti  Gary Barden, Graham Bonnet in Robi McAuley.
Skupina je pričela s snemanjem novega albuma skupaj s producentom Michealom Vossom, le-ta pa bo izšel spomladi 2018 pri založbi Nuclear Blast.
Schenker: "Zelo sem vesel, da smo podpisali pogodbo z založbo Nuclear Blast Records in veselim se že spomladanskega izida prvega Michael Schenker Fest albuma. Na njem bodo sodelovali trije originalni MSG pevci – Gary Barden, Graham Bonnet in Robin McAuley pa tudi Doogie White."